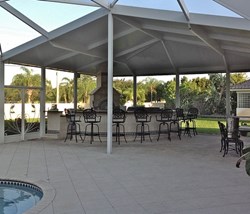 If you can dream it, a sunroom and screen enclosure builder with creative designers and the proper engineering can bring those dreams to life.
MIAMI, FL (PRWEB) December 09, 2013
Homeowners who want to expand their homes need to learn that the most important ingredient in the design of an indoor or outdoor addition is their own dreams, says Chris Noe, president of Venetian Builders, Inc., Miami.
"Good designs for sunrooms or screen enclosures incorporate a lot of imagination," Noe said.
Venetian designs and installs aluminum sunroom additions, insulated patio roofs, patio covers and pool screens in all South Florida communities, including West Palm Beach, Pembroke, Davie, Pinecrest, Fort Lauderdale, Kendall, Coconut Grove, Homestead and the Keys.
"Everything we install gets the designer's touch," Noe says, "from the smallest screened entryway to the most elaborate patio or pool dome." No two designs are the same, he said.
"The key is meeting the homeowner's needs based on their lifestyles," he says. "If you can dream it, a sunroom and screen enclosure builder with creative designers and the proper engineering can bring those dreams to life."
Noe offers these tips to homeowners considering an addition:
Know your needs: "Knowing your actual need may be more subtle than just recognizing the symptoms," Noe says. "For instance, if your children's bedrooms are crowded, it may not be a bedroom you need, but a play space, hobby room or a study area. And if you can't find the space for company, it may not be a kitchen or dining room that you should add, but an indoor or outdoor entertainment center."
State your goals: "Fill in the blank that comes after 'I want to be able to …' Noe says. "Maybe it's 'not have to clean homework off the dining room table before dinner,' or 'be able to hold a holiday celebration without leaving people off the list,' or 'exercize without having to trip over my equipment.' We've built aluminum sunroom additions as home gyms. The open, bright space adds to the workout experience, and the ceiling fans and climate control ensure comfort."
Describe your tastes: "Sometimes just talking about your tastes will do, or showing the designer your home," Noe says. "But it's a good idea to use photos –magazine illustrations or snapshots taken at a resort or a friend's home. Photos can be a roadmap for the designer to follow."
Be honest: "If your designer suggests something you don't like, tell him," Noe says. "And when he's on the right track, encourage him."
Embrace your dreams: "Don't hold back because you think your idea is silly," Noe says. "If you long for elegant evening soirees by the pool, your designer ought to be able to combine design elements that help you make them happen ¬– a stylish patio roof over a poolside bar, with the bar and the pool inside an elegant screen enclosure, for example. We've done that. You'd be surprised at what a good designer can accomplish with the right information."
Venetian's free estimates are detailed and written. No-cost in-home consultations include a visit to the Venetian mobile showroom, which comes right to the curb to show homeowners design materials and options.
For more information call 866-596-2427.