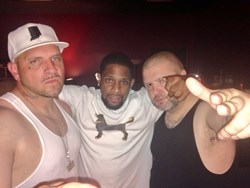 Boston, MA (PRWEB) December 07, 2013
Paleface Picasso recently traveled to Boston to work with fellow white rapper Slaine. The two worked on a track called "Perseverance" that will be featured on Picasso's new EP releasing in January. Joining the two was another Boston rapper (Knuckles) that comes in on the third verse. The engineer on the project is the very talented Lou Ballz.
The song is a hard hitting rap hit filled with relevant social content, past personal tribulations, and swag! This was the first time the two have worked on a song together.
The Indiana based rapper has been stirring things up in the rap community. Paleface Picasso released a song titled "Your Favorite Whiteboy" last December which was a diss against Detroit rapper Eminem. The song has went semi-viral on You Tube accumulating over 1.3 million hits in just under a year , accumulating over 8000 likes and just under 760 dislikes. Paleface was recently quoted saying "Eminem is a great rapper, but a Rap God he is not!" (Paleface Picasso twitter). His label,Travis Records llc, also signed a contract on his behalf with the Indianapolis Colts organization for the song "INDIANA" remix edition.