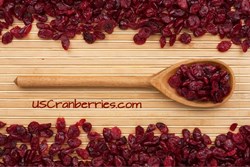 In addition to being healthy to eat, cranberries are incredibly versatile in cooking applications. ~ Scott J. Soares, Executive Director, CMC
Wareham, Massachusetts (PRWEB) December 06, 2013
In collaboration with the USDA Agricultural Marketing Service, the U.S. Cranberry Marketing Committee (CMC) and industry representatives announced today good news from USDA Secretary Thomas J. Vilsack. Effective July 2014, schools will have the option to purchase dried cranberries from the Foods Available List (FAL) as part of the USDA foodservice procurement program. Previously, only cranberry sauce had been available.
"We are committed to being a part of the solution to healthier school meals and are very appreciative of USDA's swift response along with remarkable collaboration from cranberry producers, trade associations and elected officials from across the country," said Scott J. Soares, Executive Director, CMC. "To the overwhelming majority of foodservice professionals who told us they wanted greater cranberry product options and also expressed their support for expanding the USDA Foods Available List, I extend thanks from the U.S. cranberry industry for getting your 'Cran On!'"
FAL is the USDA resource list of commodity food products. The list has been modified extensively in recent years with the goal to improve the nutritional options available to the nation's school children. As a result of new guidelines, dried fruits, including cranberries, are creditable. Dried fruit credit at twice its volume, providing the equivalent of ½ cup of fruit in school breakfast and lunch for every ¼ cup served.
"Providing our children with balanced, healthy meal and snack choices during the school day is a priority for USDA," said Charles Parrott, Agricultural Marketing Service Fruit and Vegetable Program Deputy Administrator. "This offers an additional opportunity for schools to expand their fruit and vegetable offerings to students."
With a projected record-breaking crop for 2013, the USDA news comes at an auspicious time for a market hungry for new opportunities to promote U.S.-grown cranberries.
"Cranberries are part of a healthy diet, and including dried cranberries in this program is a great way to introduce more fruit options into our nation's schools," said Tom Lochner, Executive Director of the Wisconsin State Cranberry Growers Association. "We want to thank Secretary Vilsack, the USDA, Wisconsin representatives and others for their support of the cranberry industry."
Said Paul Kindinger Executive Director at the Cape Cod Cranberry Growers' Association, "The CCCGA is extremely pleased that Secretary Vilsack and USDA will encourage schools across the US to use dried cranberries. Our improved growing techniques coupled with some exceptional harvests the last few years means that we are in a great position to diversify into new sectors."
Next steps for the cranberry industry will be to engage in outreach efforts to educate and work with school foodservice professionals toward cranberry usage. Said Soares, "In addition to being healthy to eat, cranberries are incredibly versatile in cooking applications. In July, we unveiled five foodservice-friendly recipes in our School Lunch Toolkit that were very well received by school foodservice professionals and marked the start of our work to 'cran'-hance school meals."
U.S. cranberries primary growing states are Wisconsin, Massachusetts, New Jersey, Washington and Oregon. They are also grown in Connecticut, New York, Rhode Island, Minnesota, and Michigan.
About The Cranberry Marketing Committee (CMC)
The CMC was established as a Federal Marketing Order in 1962 to ensure a stable, orderly supply of good quality product. Authority for its actions are provided under Chapter IX, Title 7, Code of Federal Regulations, referred to as the Federal Cranberry Marketing Order, which is part of the Agricultural Marketing Agreement Act of 1937, as amended. This Act specifies cranberries as a commodity that may be covered, regulations that may be issued, guidelines for administering the programs, and privileges and limitations granted by Congress. For more information about the CMC, visit uscranberries.com or follow @uscranberries and Cranberry Cravers on Facebook.
About the Wisconsin State Cranberry Growers Association (WSCGA)
The WSCGA was founded in 1887 and is committed to developing and implementing programs that will assist growers in doing a better job of growing cranberries and strengthen the public support for the industry in Wisconsin. For more information, visit http://www.wiscran.org, Like WSCGA on Facebook and Follow on Twitter.
About the Cape Cod Cranberry Growers' Association (CCCGA)
Established in 1888 to standardize the measure with which cranberries are sold, the CCCGA is one of the country's oldest farmers' organizations. Today, the CCCGA represents approximately 330 growers throughout Massachusetts. This unity has given growers both a single voice and collective strength in promoting the cranberry industry. Through continued support, the CCCGA is working to ensure that cranberry farming can survive urbanization and that open space and clean water, vital to cranberry growing, will be preserved. For more information, go to cranberries.org.