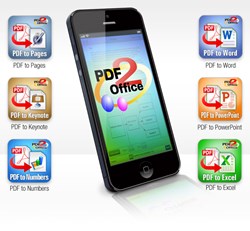 Osaka, Japan (PRWEB) December 10, 2013
PDF2Office series for iPhone features PDF to Excel, which converts PDF files to editable Excel spreadsheets; PDF to Keynote, which converts PDFs to editable Keynote presentations; and PDF to Numbers, which converts PDF documents to editable Numbers files on the iPhone.
PDF to Excel, PDF to Keynote and PDF to Numbers have been designed specifically for the iPhone providing integrated PDF viewing, and PDF conversion capability tailored for the iPhone. Also included are Dropbox and WIFI transfer mode integration, which allows transferring PDF files and converted documents between the iPhone and other devices seamlessly.
PDF to Excel, PDF to Keynote and PDF to Numbers for the iPhone don't require any active network connection facilitating instant and immediate conversions of PDF files to Excel, Keynote and Numbers format.
Finally, PDF2Office series for the iPhone also includes the capability to convert a specific area in a page using the innovative Area Select Tool. PDF to JPEG and PDF to PNG conversions are also supported using the Area Select Tool.
PDF2Office converts PDFs into editable Microsoft® Office, iWork, JPEG, PNG and other common files by recreating the intended construction and layout of the document; forming paragraphs; applying styles; regrouping independent graphic elements; extracting images; creating tables; all automatically without any manual intervention.
Key Features

Convert PDF to Excel spreadsheet with data organized in tabulated columns and rows. Every page in the PDF is converted to a worksheet in the resulting Excel file
Convert PDF to editable Keynote files that can readily be used with iPhone edition of Keynote. Every page is converted to a slide in the resulting Keynote file.
Convert PDF to Numbers file ready for use on the iPhone. Each page in the PDF is converted to a separate sheet in the resulting Numbers file.
Mark just the area within a page to convert. You can convert just the marked area to Excel, Keynote, Numbers, JPEG or PNG types. The selected data can also be embedded automatically into new mail.
Dropbox integration and WIFI Transfer mode
Download PDF files from your Dropbox account and upload the converted results back to your Dropbox account. Wirelessly transfer files between your iPhone and other devices using WIFI transfer mode.
PDF2Office series for iPhone is available in the following configurations from the App store:
PDF to Excel US$4.99
PDF to Keynote US$4.99
PDF to Numbers US$4.99
System Requirements
OS: iOS v6.0 and higher
Hardware: iPhone/iPad/iPod Touch
Recosoft Corporation is the developer of PDF2Office®, the de-facto PDF-to-Excel, PDF-to-Word, PDF-to-PowerPoint conversion utility; PDF2Office® for iWork, the only PDF-to-Keynote, PDF-to-Numbers and PDF-to-Pages conversion application; ID2Office, the InDesign-to-Word, InDesign-to-PowerPoint converter; and PDF2ID® the utility to convert PDF-to-InDesign files. The company is a leader in designing and delivering PDF converters and file conversion software solutions enhancing workflow automation and productivity. For more information on Recosoft PDF converters and conversion solutions, visit http://www.recosoft.com.
Contact Information
Recosoft Corporation
Hommachi 1-5-6, Chuo-ku, Osaka, Japan
Fax: +81-6-6260-5543
email: info(at)recosoft(dot)com
©Copyright 2013 Recosoft Corporation
ID2Office, PDF2Office, PDF2ID, PDFtoID are trademarks or registered trademarks of Recosoft Corporation in the United States and/or other countries. Microsoft, Excel, PowerPoint, Word and the Office logo are trademarks or registered trademarks of Microsoft Corporation in the United States and/or other countries. Adobe and InDesign are either registered trademarks or trademarks of Adobe System Incorporated in the United States and/or other countries. Apple, Macintosh, Mac, the Mac logo, Numbers, Keynote, Pages, iWork, iPod, iPhone, iOS, iPad are either trademarks or registered trademarks of Apple, Inc. in the United States and or other countries. All other trademarks are recognized and are the property of their respective owners.