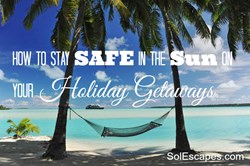 When packing for a tropical retreat, including high quality sun defense products is vital.
San Francisco, CA (PRWEB) December 06, 2013
SolEscapes advises sunny climate vacationers to pack the proper sun protection. A vacation escape to a warmer climate during chilly winter months is a favorite of many. However, with the advent of a painful sunburn and the risk of long-term sun damage, a dream holiday can turn nightmarish. When packing for a tropical retreat, including high quality sun defense products is vital.
SolEscapes recommends a multi-approach sun protection strategy, using a combination of sun protective clothing, sun protection hats, sunscreen and UV umbrellas.
Packing a sun hat is vital. A good sun hat will protect the delicate skin of the face as well as the eyes from bright sunlight. SolEscapes carries the Physician Endorsed and Gottex Hat collections of fashionable, packable sun protection hats in many tropic and travel friendly materials such as ribbon, raffia, cotton and straw. For best sun protection, vacationers should choose a 50+ UPF rated hat with an ample brim of 3 ½ inches or more.
A broad spectrum sun screen is also a must. A spray sunscreen such as Coola Continuous Sport Sunscreen Spray is easy to apply when at the beach and makes applying sunscreen on children a simpler task. It's important to apply sunscreen liberally 20-30 minutes before, and to re-apply every two hours, or after swimming.
UV protective clothing is another important component of sun protection. While swimming, snorkeling, surfing and playing on the beach, a swim shirt helps protect the shoulders, back and chest. SolEscapes offers rashguards and swim shirts in breathable and quick drying fabrics in great colors from Victory KoreDry and ultra cute rashies for children from Snapper Rock.
A sun umbrella provides portable and stylish shade. Persolé sun parasoles are made from high quality 50+ UPF fabrics and have gorgeous details. Their unique shape and size offer ample shade, and the flexibility of shade on-the-go. Added bonus: they double as rain umbrellas, making them ideal for a tropical climate where surprise afternoon showers occur.
Last but not least, vacationers should remember to shield the eyes from the sun's rays. Donning a pair of sunglasses gives immediate comfort from the sun's glare, as well as defending the eyes from potential damage. A UV400 designation means the lenses block all UVA and UVB rays, an important feature.
Bringing the right sun protective clothing, accessories and gear on a Caribbean cruise or resort getaway ensures that the beauty and fun will not be marred by painful sun damage. SolEscapes.com offers an excellent selection of sun protection products to keep the whole family safe.
SolEscapes is a California based online boutique offering a unique selection of stylish and practical sun, beach and resort essentials for all warm weather needs. SolEscapes offers personalized service, high quality products and fast affordable shipping. Merchandise including all beach hats is carefully and beautifully packaged to ensure a perfect arrival. For more information, please visit SolEscapes.com. You can also connect with SolEscapes on Facebook, Twitter and Pinterest.