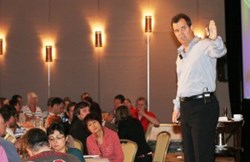 It's not the price of the house that determines affordability. It's in the terms of how you pay the price that will make the property affordable.
(PRWEB) December 07, 2013
Realestate.com.au conducted a market analysis recently and found that 41 percent of home buyers of real estate Australia were willing to pay above the asking price of property for sale, (News.com.au reported on 4 December 2013).
The study added that 39 percent of these buyers were looking for real estate within the $500,000 to $1.5 million price range.
"I believe that house prices will only continue to go up within the next few months, since the RBA didn't change the current interest rate of 2.5 percent. As long as prices continue to rise, there's a big chance that the current consumer confidence experienced by many home buyers will also go up together with the rate of house prices," Mr. Otton explained in a recent interview for his Power Property Profits Pack.
Mr. Otton then encouraged more home buyers, especially young people, to buy property Australia now because they can still take advantage of the property boom without having to deal without applying for a new bank loan or saving up a large amount of cash for deposit.
"Now's the time to buy a house and you shouldn't let the lack of cash prevent you from doing it. The truth is that you can buy a house anytime if you focus on how you're going to buy a property for sale rather than convincing the seller to drop the price of their property," he said.
"Making a house easy to buy simply means buyers don't have to pay for the whole value of a property for sale all at once. With the help of sellers, they can finish the payments in a pre-agreed period and, in exchange, they pay the seller their original asking price," according to Mr. Otton.
"Remember, it's not the price of the house that determines affordability. It's in the terms of how you pay the price that will make the property affordable," he added.
Log on to http://www.creativerealestate.com.au/freepack/ now to get more information about Rick Otton and his creative real estate strategies.
About Rick Otton
Australian property investment specialist, Rick Otton, has been developing, sharing and teaching his innovative real estate strategies for 23 years. As the founder and CEO of We Buy Houses, which operates in the US, UK, Australia and New Zealand he is known for introducing cutting-edge techniques that have enabled previously disenfranchised people to get out of the rental cycle and into their own homes.
His innovative low-risk, high-reward approach to Australian real estate investing has been featured in a variety of television programs and magazines, including Today Tonight, Hot Property and Australian Property Investor. His real estate book, published in 2012, ''How To Buy A House For A Dollar', voted by Money Magazine and Dymocks Book stores as one of the Top 10 Most Popular Finance Titles for 2013.
As well as conducting free seminars, workshops and conferences in the UK and Australia, Mr Otton releases a weekly podcast on iTunes, Creative Real Estate. In these he shares examples of real transactions, and you can listen to his students share their own experiences using his strategies.
Go to CreativeRealEstate.com.au to listen to Rick's free podcasts.