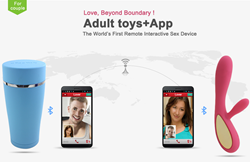 (PRWEB) December 06, 2013
Recently, a UK company, EFEELINK, has introduced its new products of sex toys, which can affect lovers physically and emotionally. These toys were exhibited in the Venus Fair in Berlin during Oct 17-21, 2013.
This set of toys is designed and developed by EFEELINK: one part for men, the other part for women. They can connect to smart phone via Bluetooth, then transmit through the Internet. Now lovers who are separated by thousands of miles can enjoy real-time interaction with a strong sense of reality through the real-time HD video.
Mark, an engineer of EFEELINK, says that the set of toys can meet the physiological needs of long-distance lovers easily. In the process of use, when a man adds the strength of action, the woman, thousands of miles away, can feel a strong tremor synchronously. Interactive control can make both of them have a big "O" together. This innovation breaks the traditional shackles, and it is considered as a "great invention" by many people.
Of course, for a single, he doesn't have to be depressed, he can find a friend who is an EFEELINK user through the "KChat" app. Then he can find a new lover, and enjoy the love journey with EFEELINK products.
About EFEELINK
EFEELINK is devoted to designing and creating dual-enjoyment of visuality and sensuality beyond thought based on modern science and technology. Its products are divided into three classes: for male, for female, and for remote interactive section. They are the world's first pleasure objects based on high-tech electron, internet and smart phone. All products' aesthetic exterior and the most body-friendly of designs which contains fashion connotation and exquisite workmanship produce a pleasant visuality and sensuality even better than real feelings between partners. Visit http://www.efeelink.com/ for more details.
Follow EFEELINK at:
FACEBOOK: http://www.facebook.com/efeelink
TWITTER: http://twitter.com/efeelink