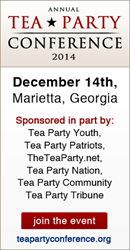 Bigotry is not a Tea Party value.
Marietta, Georgia (PRWEB) December 06, 2013
LGBTQ leaders, including GOProud, have been invited and confirmed to speak at this year's Tea Party Conference. Sponsored in part by Tea Party Patriots, TheTeaParty.net, Tea Party Nation, Tea Party Community, and iLobby, this historical event will mark a turning point in Tea Party history, when the next generation will rise up to clarify that bigotry is not a Tea Party value.
The Tea Party movement's three core values are very inclusive: (1) Fiscal Responsibility, (2) Constitutionally Limited Government and (3) Free Markets. The next generation of Tea Party activists is committed to bringing these values to a larger audience by being inclusive of all demographics, and bridging gaps in conversation for all interested in freedom.
On December 14th, starting at 10:30AM at an undisclosed location In Marietta, GA, young freedom organizers will gather to listen, learn, network, and mobilize in order to plan the continued push to preserve this generation's freedoms in the coming year.
In order to ensure a fair and balanced dialogue on diversity, an invitation to speak is also being extended to America's most beloved "conservative" comedian: Stephen Colbert.
If you would like more information about this event, or to schedule an interview with Daniel Oliver and/or Lyda Loudon, email danny(at)teapartyconference(dot)org or call 202-417-3340 with the details of your request.