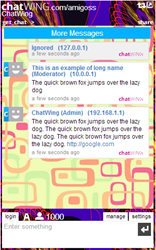 Los Angeles, CA (PRWEB) December 08, 2013
Chatwing.com and its developers have recently announced that their widgets are now gaining popularity due to the Instagram login method. The new function, pitched by lead developer Mike Diamond, has long been studied in the Chat Wing chat room springboard. Mr. Diamond has elaborated several key points regarding the Instagram feature of the widget.

Exposure rates. According to global research, web users are always after exposure of varying levels. These levels can be traced back to the goals of the users—commonly business and advocacies. By creating the Instagram login for the widget, Chatwing chat software developers have opened new means of communication for their clients. The Instagram users can also share their pictures and website links through the widget.
Instagram chatroom user groups. Despite the high popularity of Facebook and Twitter, Instagram is still considered a tour de force in social networking. Chatwing Team has noticed that the number of Instagram user groups have doubled over the year, and this can be useful for people who are building online buzz. Through the Chatwing chat app widget, online users will be able to tap on this continuous buzz before it is "upped" by other trends.
Cultural empowerment. While not being seen as strong online factor, the Chatwing Team believes that cultural empowerment is a positive thing brought by Instagram. Users can share the unique things about their culture by posting beautified pictures. Additionally, these users can also share thoughts and ideals.
Chatwing.com will continue improving its array of professional widgets. In this way, web users can gain top-rate communication leverage.
About Chatwing.com
Chatwing.com is a company that has brought innovation to the modern chat widget. Operating for more than five years now, Chatwing and its team of developers have dozens of ideas ready to be introduced to the public. The Chatwing chat app is an easy-to-use online tool that can help web users interact with each other and can also generate continuous traffic. Chatwing will always be a "freemium" application for everyone.