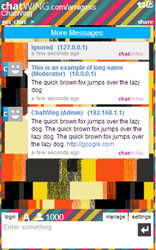 San Francisco, CA (PRWEB) December 09, 2013
As an addition to its latest online initiatives, Chatwing Team has started its search for moderators in Instagram community. The reason for this search is to maintain the activity of the growing bulk of Chatwing chatrooms. Selected moderators must be registered in the Chatwing database and they are eligible for rewards, such as virtual coins, shirts, plushies, and even small budgets. These are the qualifications wanted by Chatwing developers:

Knowledge of trends. Aspiring moderators should know about upcoming trends in the cyberspace. By injecting several thoughts about the trends, the moderators can start conversations that will make chatrooms active. Visitors of the chatrooms can also get the chance to expand their knowledge regarding the niches they specialize in. Chatwing chat room team is not specific about trends, though knowledge in technology is prioritized.
Instagram familiarity. The moderators should also have a vast knowledge regarding Instagram. Trends, tutorials, and techniques—these are the factors needed for Instagram moderators. With these qualities secured, Instagram beginners can post their questions if ever they are confused about the application.
Chatwing familiarity. As a rule of thumb, the moderators should be officially registered in the Chat Wing platform. They must also know how to create chatrooms and modify them. In this way, they can answer the questions of visitors. The Chatwing chat app team will also brief interested moderators about the functions of the widget.
Up to date, the Instagram moderator search has no definite time period. However, interested applicants can find more updates in Chatwing's chat software blog and Facebook page.
About Chatwing.com
Chatwing.com is a company that has brought innovation to the modern chat widget. Operating for more than five years now, Chatwing and its team of developers have dozens of ideas ready to be introduced to the public. The Chatwing chat app is an easy-to-use online tool that can help web users interact with each other and can also generate continuous traffic. Chatwing will always be a "freemium" application for everyone.