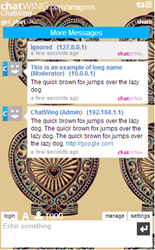 Los Angeles, CA (PRWEB) December 10, 2013
The "selfie" trend is still spreading in the cyberspace like a storm, based on the short research done by Chatwing developers. With this research, the developers pitched a small contest that will be introduced to the Instagram community. In this contest, users just need to upload their creative "selfie" shots in Chatwing chatrooms. The team will then select the winning users after a one-week period.
"The contest is meant to emphasize Chatwing's presence in Instagram," Shelly Miller said. She is the head of Chatwing's chat software research team assigned to social networking. "We have just launched new widgets that can help Instagram users gain proper communication leverage. These widgets have Instagram chat themes and they also have various social media features. As for the contest, we will pick up to 15 winning users. The prizes will be announced anytime in Chatwing's blog."
Chatwing.com has launched several online contests in the past. In Facebook, the company urged users to submit their best photos. Twenty winners received Chatwing coins—these coins can then be used to purchase premium services for the widget. Several Twitter contests were also launched, thus increasing the buzz for the Chatwing widget.
Chatwing chat software is not putting strict measures regarding the "selfie" contest in Instagram. However, users are advised not to put photos that are nude, racially offensive, and those that contain highly sensitive themes. Users who want to know more about the contest can always send email messages in the Chatwing database.
About Chatwing.com
Chatwing.com is a company that has brought innovation to the modern chat widget. Operating for more than five years now, Chatwing and its team of developers have dozens of ideas ready to be introduced to the public. The Chatwing chat app is an easy-to-use online tool that can help web users interact with each other and can also generate continuous traffic. Chatwing will always be a "freemium" application for everyone.