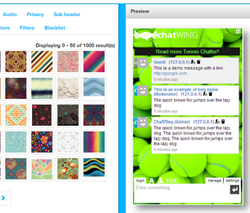 New York, NY (PRWEB) December 11, 2013
Dating sites can now flourish with the latest addition in Chatwing's tools: Instagram chatbox. This new professional chat app is meant to give communication power to all web users, especially those who want to explore dating chatroom sites. Here are the following beneficial features presented by Chatwing's online chat tool:

Instagram and Tumblr login. Instagram users can now use their accounts to access any Chatwing chatroom. This flexibility allows users to become more connected at a faster rate, compared to other chatrooms. Instagram users can also join different niche groups that capture their interests best. The Tumblr login method was also introduced to the Chatwing chat software app. Bloggers can rely on this method to widen their subscriber groups.
Wide chat room customization functions. Upon registering, the user can go directly to his dashboard and start modifying the chat box. There are hundreds of available colors and styles. The user can try different combinations as possible. Every Chat Wing user is also entitled to unlimited chatroom creation. Moderator functions can also be set in the account dashboard.
Premium features. For people who want better chatting experience, Chatwing's premium services are good options. Each premium function costs 1 virtual coin, and this is equivalent to $1. There are also numerous payment options. Some of the popular premium functions are secure socket layer, custom sidebar, custom logo, and more chat networks.
Chatwing Team expects that the Instagram chat app will continue peaking in the coming weeks. To deal with large user influx, the team will have more maintenance and enhancement schedules.
About Chatwing.com
Chatwing.com is a company that has brought innovation to the modern chat widget. Operating for more than five years now, Chatwing and its team of developers have dozens of ideas ready to be introduced to the public. The Chatwing chat app is an easy-to-use online tool that can help web users interact with each other and can also generate continuous traffic. Chatwing will always be a "freemium" application for everyone.