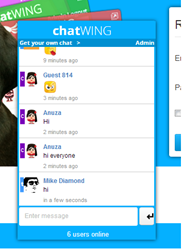 Cambridge, MA (PRWEB) December 12, 2013
Chatwing Team has just finished its weekend analysis regarding the progress of the Live Chat App 3.5. In the latest analysis, the company's developers have pointed out that the Instagram login feature is becoming popular in the chatrooms. Moreover, Instagram product makers were seen using the Chatwing chat box to raise exposure and awareness.
"Instagram users can rely a lot on the Chatwing chat software tool if they want to gain more exposure. Since the Chatwing tool can be integrated easily with Instagram, the users can target more people. The increased exposure can bring in more profits and customers in the long run," Mike Diamond said. He is one of Chatwing's developers and also the brain behind the Instagram login method.
Before launching Instagram login, the developers have introduced the Tumblr login feature. With this continued initiative, the developers expect to reach a high percentage of user influx before the year ends. Additionally, the team will also push for more premium advantages.
Instagram users who want to know more about the embeddable chatroom can visit Chatwing's official Facebook page. The developers are posting updates and helpful content every now and then.
About Chatwing.com
Chatwing.com is a company that has brought innovation to the modern chat widget. Operating for more than five years now, Chatwing and its team of developers have dozens of ideas ready to be introduced to the public. The Chatwing chat app is an easy-to-use online tool that can help web users interact with each other and can also generate continuous traffic. Chatwing will always be a "freemium" application for everyone.