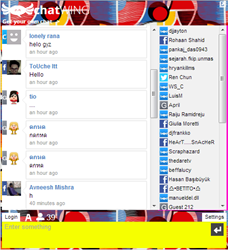 New York, NY (PRWEB) December 16, 2013
Food is still one of the hot items in the cyberspace today, based on many online professional studies. Taking the importance of this fact, Chatwing Development Team introduced a new Instagram chat tool for chefs. Food critiques can also use the tool to find more information about culinary delights. Chatwing chatroom team emphasized the key benefits of using the Instagram chat box:

Free-flowing data. The Chatwing chat room tool is meant to widen the levels of online communication. To utilize its potential well, users can embed it to their websites. Once installed, the chatroom will become an online lounge wherein the visitors can exchange data regarding topics they like. Food critiques, especially those ones who maintain blogs, can use the chat tool to gather new ideas and raise visibility.
Greater interaction. Aside from words and messages, chatroom visitors can share pictures and videos. This is an opportunity for chefs—especially those ones who want to learn new recipes. Veteran chefs can share their ideas to those who are just starting out in the culinary field.
Social media empowerment. The Chatwing tool is not just limited to Instagram users. Currently, the chat tool has Facebook, Twitter, Tumblr, Google, and Yahoo login methods. With these social media arrays, users can delve in social networking at greater rates. Chatwing chat app developers are frequently maintaining their social media channels.
The Chatwing chat software widget is considered a progressive project, especially now that it is gathering buzz in the cyberspace. Users who want to check out the latest developments can visit Chatwing's Facebook and Twitter networks.
About Chatwing.com
Chatwing.com is a company that has brought innovation to the modern chat widget. Operating for more than five years now, Chatwing and its team of developers have dozens of ideas ready to be introduced to the public. The Chatwing chat app is an easy-to-use online tool that can help web users interact with each other and can also generate continuous traffic. Chatwing will always be a "freemium" application for everyone.