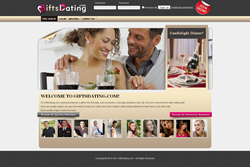 Everyone prepares a gift for the first date at giftsdating.com!
(PRWEB) December 09, 2013
Over the last few years, the novelty of online dating has worn thin for most singles. While sites like Match.com and Plenty of Fish continue to operate successfully, the excitement of the experience of online dating just isn't what it used to be. In a sense, like other internet novelties that have come and gone before it, the practice is tired and outdated. Fortunately, GiftsDating.com has introduced a new, fun, unique approach that is guaranteed to liven things up between singles and energize online dating once again.
The idea behind GiftsDating.com is a simple yet effective one. Quality and attractive singles use the site to set up dates between one another just as they would with any other similar service out there. With GiftsDating.com, however, all parties agree beforehand to present their dates with a gift when they first meet. This is a great opportunity to learn something immediately about a person, as their choice of gift reflects a part of their own personality. Beyond that, it is an amusing way to date that helps for two people to quickly become relaxed and really get to know one another. There is perhaps no better dating service out there that offers such an effective way of breaking the ice that often leads to disappointment for both parties.
This particular service has already been featured in a number of different articles from major media outlets and on television as well. As the buzz surrounding this ingenious dating service grows stronger, the number of members will also increase. Already, there are thousands of quality members on the site to choose from. Best of all, joining GiftsDating.com is absolutely free. In fact, registration can be completed in just a few minutes time and then you're ready to go.
As a dating site where you can get gifts from your dater, GiftsDating.com is an original and creative variation on the old online dating model that is sure to grow in popularity as more people realize the potential it has to create a pleasant get-together between two singles. Simply put, it is something different and thoroughly enjoyable that good-natured adults will love to try over and over again. Prospective members are urged to join the site today. While this premium dating service is currently free to join, that may not be the case in the future. By joining today, however, you can be a part of something special -- an exciting new service that is revolutionizing the way that we date one another online.
Learn more by visiting http://www.giftsdating.com/.