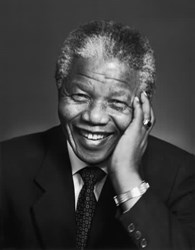 We can change the world and make it a better place. It is in your hands to make a difference. - Nelson Mandela
Cape Town, South Africa (PRWEB UK) 6 December 2013
It is with great sadness that the world commemorates the life and passing of a great man. Nelson Rolihlahla Mandela, anti-apartheid revolutionary, former President of South Africa and global icon of peace passed away on Thursday the 5th of December at the age of 95.
As the Rentokil Initial family, we would like take a moment today to pause and remember this great man and the ideals for which he stood. Nelson Mandela unified a nation and brought dignity, humanity, peace and hope to South Africa that transcended borders to touch millions of people around the world.
The key message that Madiba has left the company with is one of hope and perseverance.
"I have walked that long road to freedom. I have tried not to falter; I have made missteps along the way. But I have discovered the secret that after climbing a great hill, one only finds that there are many more hills to climb."
-Nelson Mandela
Rentokil Initial is joining millions of people around the world today in paying tribute to an inspirational, commendable and truly remarkable leader, Nelson Mandela.
David Lewis
Managing Director – Sub Sahara Region
Rentokil Initial