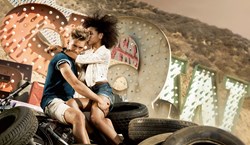 The "Take-off with Tom Tailor" campaign, running from 14 November 2013 to 23 January 2014, offers fans the chance to visit the home of the brand, which also happens to be one of the biggest fashion hubs of the world – Hamburg, Germany.
Johannesburg (PRWEB) December 19, 2013
There's never been a better time to buy Tom Tailor Denim, one of the fastest-growing fashion brands in Europe, now available in a stand-alone flagship Sandton City store and select Edgars stores, with a new flagship store opening in Westville in December. The "Take-off with Tom Tailor" campaign, running from 14 November 2013 to 23 January 2014, offers fans the chance to visit the home of the brand, which also happens to be one of the biggest fashion hubs of the world – Hamburg, Germany.
Tom Tailor Denim has become synonymous with iconic denim collections that focus on quality, great cuts and items created especially for today's young lifestyle generation: self-confident and authentic with a taste for unconventional looks.
Entrants looking for the experience of a lifetime just need to snap a picture of themselves wearing any purchased Tom Tailor Denim item and then upload it to the Tom Tailor Denim South Africa Facebook page, tweet it using #TomTailorZA or post it on Instagram using the hashtag #TomTailorZA.
One weekly winner will be chosen by one of the renowned South African fashion bloggers partnering with Tom Tailor Denim. All eight semi-finalists will receive a R1000 Tom Tailor gift voucher as a prize. The grand prize winner with the most votes will be announced on 23rd January and jet away to Hamburg, Germany in style for a five-day trip, along with a friend.
Besides exploring the city known as the 'gateway to the world', the winner can look forward to a visit to the Tom Tailor Denim Headquarters, dinner with the fashion fundi's from Tom Tailor, a harbour cruise, and fabulous meal at Sky Line restaurant with a killer view.
Look out for details from these bloggers who will choose the semi-finalists: Kim Gray (Kim Gray), Carlinn Meyer (Superficial Girls), Serisha Singh (All4Women), Victoria Tatham (Kiss, Blush & Tell), Kathryn Rossiter (Becoming You), Bailey Schneider (Vanilla Blonde), Sergio Ines (What My Boyfriend Wore) and Robynne Kahn (A Fashion Friend).
Use your Edgars Thank U card and get your Tom Tailor on account, 6 months interest free, even when shopping at the Sandton City & Westville Tom Tailor flagship stores.
For more information on Tom Tailor visit: http://www.edgars.co.za.
Find your nearest Tom Tailor store here:
Tom Tailor Stand alone stores:
Sandton
Pavillion Westville
Edgars stores:
Fourways
Sandton
Eastgate
Tygervalley
Westville
Gateway
Woodlands
East Rand Mall
V&A
Greenacres
Melrose
Midlands
The Glen
Clearwater
Mall of the North
Kolonade
Somerset
Cape gate
Highveld Mall
Claremont
"Take-off with Tom Tailor" campaign dates:
Entries close 1pm Winner selected by blogger
Week 1 Monday 25 November Kim Gray
Week 2 Monday 2 December Superficial Girls
Week 3 Monday 9 December All4Women
Week 4 Monday 16 December Kiss, Blush & Tell
Week 5 Monday 23 December Becoming You
Week 6 Monday 30 December Vanilla Blonde
Week 7 Monday 6 January What My Boyfriend Wore
Week 8 Monday 13 January A Fashion Friend
Voting Campaign
Wednesday 15 January
Final winner announced: 23 January
ENDS.
About Edgars
Edgars is the Department Store of Choice for Men's, Ladies, Kidswear, Footwear and Accessories for every occasion. Showcasing the widest range of the latest's fashion trends from top international brands to own private label brands; Edgars offers something for everyone. There are 181 Edgars' stores in South Africa including neighbouring countries.
About Edcon
Edcon is South Africa's largest non-food retailer, with a market share of the South African clothing and footwear (C&F) market nearly twice that of its nearest listed competitor, trading through a range of retail formats. The Group has grown from opening its first store in 1929, to trading in 1 368 stores (as at 28 September 2013) in South Africa, Botswana, Mozambique, Namibia, Swaziland, Lesotho, Zambia and Zimbabwe. Edcon has been recognised in national surveys as one of the top companies to work for in South Africa and continues to make significant progress in its equity and transformation goals.
Our retail businesses are structured under three divisions: Edgars division, including Edgars, Boardmans, Edgars Active, Edgars Shoe Gallery, Red Square and the Group's mono-branded stores such as Topshop Topman, Tom Tailor, Dune, Lucky, T.M. Lewin, Lipsy, Inglot, La Senza and Accessorize whose product is also available through Edgars stores, serves principally middle and upper income markets; Discount division including Jet, JetMart and Legit, serves principally middle to lower income markets; and CNA, the Group's stationery, books, games, movies, music, hi-tech electronics and mobile retailer. The Edcon Credit and financial services division provides credit and insurance products to the Group's customers.
With the launch of its "Thank U" loyalty programme, Edcon now has the largest retail customer database in South Africa which enables it to provide customers with relevant offers across its suite of retail and financial services products; this programme includes all mono-branded stores in South Africa.
For more information, please visit the Edcon website: http://www.edcon.co.za