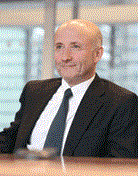 We recognise that as our clients' business needs are changing, so are their expectations and requirements.
London (PRWEB UK) 9 December 2013
LRQA is delighted to announce a new brand identity; LRQA is part of the Lloyd's Register Group (LR) and over recent years, Lloyd's Register has undergone significant change and growth. LR has grown to a £1 billion turnover service provider with over 9000 employees in 78 countries, restructured to create the Lloyd's Register Foundation as the organisation's parent entity, invested in technology leadership through global technology centres, diversified services further into energy and rail, and expanded its Management Systems business, LRQA.
The new brand identity - which is built on the original LR stamp from over 250 years ago - reflects LRQA's commitment to independence, technical excellence and public benefit. And the new logo is a device that links together all the members in the group, including LRQA, making it easier for clients to navigate through the broad service portfolio available.
"The new brand identity is only the beginning and we are looking forward to the journey ahead - for both our clients and our brand. We recognise that as our clients' business needs are changing, so are their expectations and requirements," said Mike James, Managing Director LRQA and Chairman of the Independent International Organisation for Certification (IIOC). "As a result, as we move into 2014 and beyond, we will be delivering a new and broader range of assessment and training services to support the many thousands of clients that we serve worldwide."
For any further information about LRQA's expanding service offering or new brand identity, please feel free to get in touch here .
END
About LRQA
LRQA is a member of the Lloyd's Register Group Limited. LRQA is a leading independent provider of assurance services including assessment, certification, validation, verification and training across a broad spectrum of standards and schemes. We are recognised by over 50 accreditation bodies and deliver our services to clients in more than 120 countries. Applying our unique assessment methodology – Business Assurance – LRQA turns assessment into a powerful management tool.
By understanding what really matters to your organisation and stakeholders, we help you improve your management system and your business at the same time.
About LR
Lloyd's Register (LR) is a global engineering, technical and business services organisation wholly owned by the Lloyd's Register Foundation, a UK charity dedicated to research and education in science and engineering. Founded in 1760 as a marine classification society, LR now operates across many industry sectors, with over 9000 employees in 78 countries.
LR has a long-standing reputation for integrity, impartiality and technical excellence. Our compliance, risk and technical consultancy services give clients confidence that their assets and businesses are safe, sustainable and dependable. Through our Global Technology Centres and research network, LR is at the forefront of understanding the application of new science and technology to future-proof our clients' businesses.