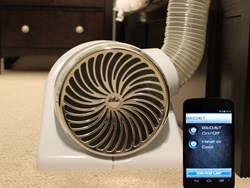 Before getting into bed, give your bedding that hot towel just out of the dryer feel in 3 minutes or less.
Newport, RI (PRWEB) December 06, 2013
BEDJET, LLC, an innovative house goods technology development company, today announced pre-sales release of the BEDJET™ ultra rapid bed heating and cooling system. The patent pending BEDJET allows consumers to safely heat their bedding with up to 15 times the power and speed of existing electric blanket and water based bed warming systems. The BEDJET cooling function provides nearly instant dissipation of both accumulated heat and moisture out of the bed, helping relieve sufferers of hot flashes and night sweats.
Mark Aramli, inventor of the BEDJET, has held previous engineering responsibilities supporting the NASA space suit primary life support system, specifically elements relating to heating, cooling and climactic comfort of the interior space suit environment for astronauts.
Said Aramli, "The BEDJET is the most powerful temperature management technology ever released for the consumer bed comfort market and can within three minutes safely and quietly give the bedding of a king size bed the feel of a hot towel just out of the dryer. It is an absolute delight to use. The user group testing on this product has been phenomenal and beyond our expectations. We have identified an unmet latent demand for a bedding pre-heat system that can boost bed temperatures at far higher speeds than current electric blankets. It means no more waiting thirty minutes to an hour for the bed to feel warm."
The BEDJET operates on the principle of convection heating and forced air. The device pumps either heated or fresh room temperature air directly into the sleeping layer of the users bedding with a patent pending air delivery and nozzle system. The air delivery system clips into any type of mattress near the foot of the bed. The use of pumped air enables massive delivery of heat to the bedding while keeping electricity, wires and electromagnetic fields completely out of the bed. The BEDJET is small and can fit under many bed frames. It works with any size bed and any combination of bedding, but does require a top sheet.
"One of our key objectives was to create a safe, quiet and long lasting product that could be used without consumers having to adapt to a new piece of bedding , blanket or pad that was not part of their existing bedroom ecosystem. We have achieved all of those goals and are excited about the early support we have already received" said Aramli. The company is currently active in a Kickstarter campaign where the first BEDJET products can be reserved here.
Anticipated shipments on pre-sales will be in the first half of 2014.
Weblinks:
http://www.bedjets.com
About BEDJET, LLC
BEDJET, LLC is a home goods technology development and manufacturing company based in Connecticut and Rhode Island. BEDJET, LLC focuses on developing innovative home goods where applied science and technology can be utilized to transform ordinary daily activities into delightful experiences.