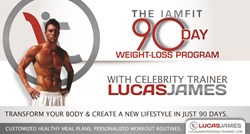 Scottsdale, AZ (PRWEB) December 09, 2013
Celebrity Trainer, Lucas James, famed for sculpting the elite and affluent physiques, has announced the launch of his new "IAMFIT 90-Day Weight Loss Program" – a weight management program designed to educate, motivate and hold people accountable to form healthy eating habits and exercise into their daily lives to achieve their goal weight, and maintain it as well.
James will work with each client one-on-one to help them set weekly, attainable goals and will further help them achieve their goals by providing customized healthy diet meal plans and exercise recommendations. Various tools will be utilized to help keep clients accountable, such as weekly check-ins, weigh-ins, body fat testing, body photos and measurements, and daily food tracking.
The "IAMFIT 90-Day Weight Loss Program" focuses on nutrition as the most important factor in the weight-loss process. Clients will receive a customized healthy diet meal plan from a registered dietitian based on their individual needs and goals, including—but not limited to—eating habits, lifestyle, caloric needs, food preferences and allergies. James will also take other various factors into account—such as sleep, stress level, lifestyle, emotional eating, medications and pre-existing conditioning/injuries—in order to help each client create an overall healthier lifestyle.
In addition to a custom healthy diet meal plan, individuals will receive a list of quick healthy recipes; but those who are not a fan of cooking in the kitchen are not out of luck. James will work closely with his Registered Dietitian to research local restaurants to provide a list of healthy meal options and substitutions for eating out. James can also recommend healthy food delivery or private chef services.
While many diets and weight-loss programs can be physically and emotionally demanding, Lucas James' "IAMFIT 90-Day Weight Loss Program" is designed to make exercising and eating healthy stress-free by combining foods and exercises that are enjoyable. The program is not a low-calorie yo-yo diet, weight loss pill, meal replacement supplement, cleanse, fast or extreme physical activity. It's strictly the fundamentals of proper nutrition and exercise science.
The "IAMFIT 90-Day Weight Loss Program" is intended as a lifestyle change rather than a quick fix weight loss plan. James explains that many people that diet, tend to gain the weight back shortly after. Through his program, James' goal is to make weight loss fun, stress free, and to sustain the weight loss results. James further explains that the program is "90 days to help people create a routine and habit in regards to eating and prioritizing healthy meals, rather than relying on crash diets, fast food or weight loss pills."
The IAMFIT program has limited availability and will only be offered to the first 12 people that sign up on a first-come, first-serve basis. Upon signing up, clients will meet with Lucas for an initial consultation. For those who are not located in Scottsdale, AZ, an online virtual program is available.
Individuals interested in signing up for the "IAMFIT 90-Day Weight Loss Program" should sign up at http://LucasJamesPersonalTraining.com/IAMFIT-90-Day-Weight-Loss-Program.
For more information about Celebrity Trainer, Lucas James, please visit LucasJamesPersonalTraining.com.