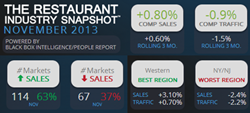 Beyond the shift in Thanksgiving the shorter shopping days will no doubt be challenging, however many macro signs point to a positive season overall, said Victor Fernandez, Exec. Director of Insights for TDn2K
(PRWEB) December 06, 2013
For the third consecutive month restaurant same-store sales posted positive growth according to the November Restaurant Industry Snapshot published by Black Box Intelligence and People Report this week. Although overall guest counts continue to decrease year-over-year for the industry, there are some positive signs as same-store traffic growth improved for the fifth consecutive month.
However, it is important to note that these results are affected by the fact that Thanksgiving fell on different weeks in 2012 and 2013, as a result, this holiday's sales will actually be tallied in December's total for 2013 (as per Black Box Intelligence's weekly guidelines).
"Based on this shift in the holiday, it is really too early to predict what the holiday season will look like this year. Beyond the shift in Thanksgiving the shorter shopping days will no doubt be challenging, however many macro signs point to a positive season overall," said Victor Fernandez, Executive Director of Insights and Knowledge for TDn2K, the parent company of Black Box Intelligence and People Report.
Same-store sales growth for the restaurant industry was 0.8% in November, a 0.2% drop from the growth rate reported for October. Same-store traffic posted a -0.9% growth rate in November, a 0.5% improvement from the value reported for October.
Further good news for the industry can be found in the Restaurant Willingness to Spend Index produced by Consumer Edge the index jumped to 93 last month seven points higher than October where it suffered a major downturn. This indicator points towards strong sales during the holiday season and an improvement in the guest counts for the industry.
The latest numbers from People Report continue showing the trend of rising turnover levels for both restaurant managers and hourly employees. Added pressure continues to be applied on the staffing function at restaurant companies by the sustained growth in number of employees, as chains continue expanding and thus adding to their headcounts. October saw the total number of employees at the restaurant level increasing by 1.8% year-over-year; consistent with the 1.9% that was reported for September.
The Restaurant Industry Snapshot is a compilation of real sales and traffic results from over 180 DMAs from 100+ restaurant brands and approximately 16,000+ restaurants that are clients of Black Box Intelligence, a TDn2K company. Currently, data is reported in four distinct segments: casual dining, upscale/fine-dining, fast casual, and family dining. Black Box Intelligence is a sister company to People Report, which tracks the workforce analytics of one million restaurant employees. The Restaurant Industry Snapshot also includes the Restaurant Industry Willingness to Spend Index from Consumer Edge Research, which is a monthly household survey of more than 2,500 consumers. Consumer Edge Insights is a marketing partner of Black Box Intelligence and People Report.