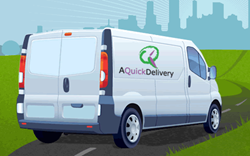 Atlanta, GA (PRWEB) December 09, 2013
AQuickDelivery, a recognized leader in same-day delivery, messenger and transportation services, announces Christmas luncheon courier services. The announcement comes in an effort to inform customers of the food delivery services during the holiday season, expand it's customer base, and promote sales growth. AQuickDelivery pursues to be the best choice in same-day courier solutions throughout Atlanta and surrounding Georgia areas.
AQuickDelivery has Christmas luncheon delivery services available for individuals and companies that will be having a variety of luncheons, parties, and more during the holiday season. All food deliveries must be performed on direct service, which is the courier's fastest delivery option. The service is completed within an hour. With direct service, AQuickDelivery will pick up within a thirty-minute window from the time the customer states their food order is ready. Once picked up, the driver will transport the food directly to the destination.
For Christmas luncheon and holiday food orders, AQuickDelivery has special request service options available as well. AQuickDelivery can pick up their food order at an exact time within the direct service. Customers can also request their food order be delivered by a certain time as well. AQuickDelivery offers these options to meet the needs of its' customers that will be having various Christmas and holiday parties during December.
Customers are able to make their Christmas food order pick up request via phone or online. For any special service requests and delivery instructions, customers are recommended to contact AQuickDelivery via phone to discuss their food pick up needs. AQuickDelivery is also available 24/7 for all of its' customers. The Atlanta courier creates optimal courier service solutions that meet the daily needs of it's customers during the holiday season.
AQuickDelivery is a premier same-day courier offering transportation and distribution services. From small packages to palletized freight, AQuickDelivery delivers fast! As a leader in the courier industry, their goal is to perform optimal courier logistic solutions and superior customer service every time. The Atlanta courier provides same-day delivery successfully for over 1,500 clients, including Fortune 500 companies throughout Georgia.