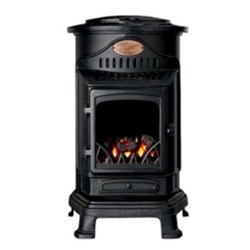 A portable gas heater makes all the difference in turning your front room into a haven of warmth and can also provide great savings on your energy bills. - Director of World of Camping, Clay Cowie
(PRWEB UK) 12 December 2013
Freestanding Butane Gas Heaters are a simple way to keep track of your fuel costs, and provide a good source of extra, occasional or emergency heating.
World of Camping are an online retailer of camping equipment who took an interest in domestic heating after selling smaller camping heaters for leisure use. They began to sell for the home sector during the winter months, when tent sales are lower and the usual customer base has packed away their tents and awnings and stored the caravan or motorhome under covers until Spring and warmer weather.
"When touring in their caravan or motor-home, many of our customers like to use a porch or drive-away awning for extra living space when they set up at campsites," says World of Camping's director Clay Cowie. "This can get a bit chilly in cold weather, but a small gas heater makes all the difference in turning your temporary front room into a haven of warmth that will have all your camp site neighbours queuing to join you in your cosy awning.
"We also sell larger cabinet heaters for use in the home: this year, our most popular butane heater has been the Provence, a reassuringly well-built model with a sturdy wheeled cast-iron base. The more compact Manhattan Heater has been an attractive choice for those with a bit less space."
Portable gas bottle heating allows you to avoid the standing charges and variable rates associated with mains gas and electric. A 15kg gas bottle from your local merchant will cost around £30 to refill, so having paid upfront you know exactly what your costs are - saving the worry of an astronomical quarterly bill.
This type of heating is also an insurance against power cuts, blackouts and other problems with energy supply which we can expect from extreme weather - like gales, hurricane and floods - providing piece of mind for customers expecting a bitter January.
The classically styled Provence Heater adds a touch of style and charm (and most importantly warmth) to any living room, conservatory, holiday home or awning. The real beauty of this heater is the economy, as it runs for up to 140 hours on a 15kg butane bottle - ideal if you only need to heat a single main living space, or an extra room over the Christmas period.
"We've seen a surge in sales not just for domestic users, but also for people searching for heating options for holiday homes both in the UK and elsewhere."
There's also been increased demand for portable heaters among buyers with alternative housing like houseboats and yurts, which in the current market have seen a rise in popularity. Conversions, extensions and rebuild projects have caused further interest, as a freestanding heater is the only option when mains supplies aren't in place.
Users of butane or propane are advised to follow necessary safety precautions and check suitability before using gas heaters. These don't require a flue or chimney, but do need a properly ventilated space and shouldn't be used in sleeping areas overnight.
worldofcamping.co.uk are based in Cornwall as an online UK retailer of camping equipment, tents, caravan awnings, and accessories like portable chairs, folding tables and 3-way fridges. They also sell a wide range of gas regulators, gas hose and clips, as well as lots of heating options from pocket hand warmers and small directional Parabolic heaters to the Provence and other portable butane heaters.