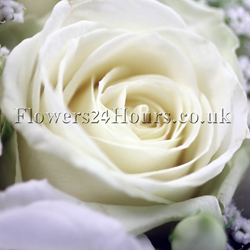 'As florists, myself and the staff at Flowers24Hours really wanted to create a tribute for Mr Mandela and we thought it would be nice to invite others to join us too.' - Zlatko 'Tod' Todic, Founder
London (PRWEB UK) 6 December 2013
As a tribute to anti-apartheid icon and former South African president Nelson Mandela, local London florist Flowers24Hours is offering the public a chance to contribute to a beautiful bouquet of white roses to be placed at the foot of his statue in Parliament Square next Saturday, 14th December.
The south London based online flower delivery company has chosen elegant white roses for the tribute as they traditionally represent purity and virtue, and are also a symbol of honour and reverence. Visitors to the website between today and Friday will be given the option to purchase a single white rose for Nelson Mandela, which will then form part of the bouquet.
Born in South Africa's Eastern Cape on 18 July 1918, Mr Mandela was a lawyer, political activitist and prisoner before he became the first black president in South Africa. Throughout his life he was an inspiration and source of hope to many people around the world and during his imprisonment, anti-apartheid campaigners often rallied in support of him outside South Africa House in Trafalgar Square in London, just around the corner from where his statue now stands.
On 11 February 1990, Mr Mandela was finally freed after spending 27 years of his life imprisoned on Robben Island and the next year was elected president of the ANC. Then in 1994, people around the world celebrated the final end of the oppressive apartheid regime as he became the first ever black president of South Africa.
Flowers24Hours flower shop hopes that its memorial tribute, along with the thousands of others that will no doubt pour in, will go some way to showing how much the public in London and the UK, and indeed people from around the world, will miss this great man.
Founder Zlatko "Tod" Todic comments, "As florists, myself and the staff at Flowers24Hours really wanted to create a tribute for Mr Mandela and we thought it would be nice to invite others to join us too, so that together we can hopefully provide a beautiful, giant bouquet that goes just a small way to reflecting what enormous spirit, courage and character Mr Mandela had".
Those wishing to contribute to the bouquet just need to visit Flowers24Hours before 3.30pm on Friday and click on the option to purchase a single white rose. Following delivery of the bouquet, Flowers24Hours will post a photo of the tribute on its Facebook page so contributors can see it in place.
Established in 2001, Flowers24Hours.co.uk is an online florist offering top quality flowers and luxury gifts for same day delivery in London and next day delivery in the UK. The website provides a large choice of fresh flower bouquets and arrangements which can be combined with luxury items such as Lindt chocolates, champagne, wine, gourmet food and spa products to create beautiful and affordable gifts for any occasion, from birthdays and new babies to corporate events.