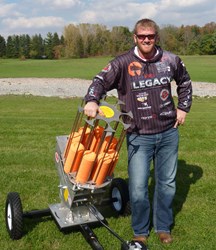 I'm proud to promote MEC's clay target machines and their shotshell reloaders.
Mayville, Wis (PRWEB) December 09, 2013
MEC today announced a new partnership and sponsorship agreement with Xtreme sport shooting champion, Patrick Flanigan. Flanigan is a nine-time world record holder and a veteran entertainer in the shooting sports industry. He has been labeled as the world's greatest shooting sports entertainer and the world's fastest shotgun shooter. As part of the agreement, Flanigan will promote MEC's Clay Target Machines at live performances and via multiple media channels.
"We're very excited to have Patrick join our team. He's a leading professional in the shooting sports world and I can't think of a more talented guy to help us promote the introduction of MEC into the clay target machine market," said Simon Hurley, MEC Product Manager. "Patrick is already contributing some fantastic ideas to our team and we're excited to have him use our products during his demonstrations. It's truly a perfect partnership," added Hurley.
Flanigan has successfully developed numerous youth shooting programs throughout the U.S. to continue to grow participation in the shooting sports. "When I consider partnering with organizations, I want to make sure that we're aligned and I found the perfect fit with the team at MEC," said Flanigan. "They've been extremely active in educating youth and promoting programs that increase participation in the sport that I love. Plus, they make great products right here in the USA. I'm proud to promote MEC's clay target machines and their shotshell reloaders," he added.
Patrick's fans will get a chance to visit with him at MEC's booth at the upcoming SHOT Show in Las Vegas. Visit MEC's Facebook page to receive details on the time and booth location.
###
About Mayville Engineering Company
Headquartered in Mayville, Wis., MEC has become a manufacturing company where employee shareholders are creating outstanding value and support every day for their customers and communities in which they live and work. MEC is the world's leading producer of reloading tools for shotgun shells having sold over 2 million worldwide. In 2013, MEC acquired APEX Clay Traps and introduced MEC Clay Target Machines. MEC's Clay Target Machines are built with the same quality, value, reliability and backed by the customer service that shooting sports enthusiasts the world over have come to know and expect from MEC. More information can be found at http://www.mecshootingsports.com.