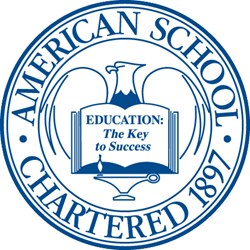 Lansing, IL (PRWEB) December 10, 2013
2014 hasn't arrived yet, but the American School is already earning honors bearing next year's date. Once again, the School has earned Homeschool,com's Seal of Approval, which means that the site's editors and readers have tested the American School's products and found them to be satisfactory.
The American School has been a leader in distance education since 1897 and has helped more than three million students around the world earn their accredited high school diplomas. Today the American School offers more than 70 courses, many of which are available in paper-based and online formats. The School's General High School and College Preparatory Programs both consist of 18 units of credit with room for electives of the student's choosing. The American School's Independent Study Program gives students at public and private high schools the opportunity to take individual courses for credit recovery or enrichment purposes. Finally, homeschoolers who are not in either of the School's diploma programs may take individual courses to supplement their existing programs.
A major initiative of the School in recent years has been the expansion of its online learning offerings. The School offers online courses as well as online exams in paper-based courses, which, along with the School's robust paper-based curriculum, allow students to learn in the way that is most comfortable for them.
For more information on the American School, call 866-260-7221 or visit http://www.americanschool.org.