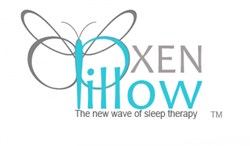 Xen Pillow has a multi-comfort use on both sides not seen with other pillows.
East Stroudsburg, PA (PRWEB) December 08, 2013
Marlon E. Holder, Engineer, Inventor and CEO of Xen Pillow Manufacturing Corporation announces the introduction of the newly patent pending, ergonomically contoured Xen Pillow™. Product testers have documented their results showing substantial neck and shoulder sleep support benefits using the Xen Pillow™. Testers reported that with ordinary rectangle stuffed pillows they suffered with stressful neck and shoulder pains, suffering sleep deprivation for many years. The Xen Pillow's dynamic design provides the much needed neck and shoulder support and offers them the great night sleep that they have long sought. Xen Pillow™ had a 100% satisfaction rating.
Testimonials of Xen Pillow™ Users:
Kevin M., Esq., Randolph, NJ: Kevin for years battled with intermittent chronic neck pain. He, however, reported a dramatic reduction in his neck pain since using the Xen Pillow™, attributing the relief to the superior cervical support that the Xen Pillow™ provides.
Dr. Patrick R., Chiropractor, Randolph NJ: Patrick identified his most favored sleeping position as on his back, causing chronic sleep problems and neck pain. He states: "The Xen Pillow™ supports your neck, back, and spine and allows for a more correct sleeping posture than a regular pillow. The unique shape of the Xen Pillow™ allows for support in many different sleeping positions. It even makes it easier to sleep on my back, my preferred position."
Charles P., Chief Engineer, East Stroudsburg, PA: Charles identified his most favored sleeping position as multiple during the night, and his sleeping problems were numerous. Charles states: "The Xen Pillow was very comfortable and I really slept like a baby. This is a revolutionary design."
Challin H., Marketing and Sales Executive, Florence, KY: Challin identified her most favored sleeping position as being on her side. Her sleeping problems included, neck pain, headaches and arm numbness. Her comments were: "I have tried numerous pillows over the past 10-15 years never really understanding the relation between a pillow, neck pain and headaches. From the first night with my new Xen Pillow™ I have been neck pain free and blissfully headache free! Amazing product!"
The Xen Pillow™ is made and assembled 100% in the USA. The pillow is made from a revolutionary propriety foam core material. Designed by Marlon E. Holder, Marlon sought relief from his own chronic neck pain and arm numbness as a result of an accident. Marlon continually redesigned the pillow until it was "just right". Marlon sleeps with the pillow and is rejuvenated and finally pain free. He is amazed at how much more productive and rested he is and wants to share his revolutionary invention. Experience the unmatched comfort of the contoured Xen Pillow™. To learn more, visit http://www.xenpillow.com.
Contact:
Marlon E. Holder
President, CEO: Xen Pillow Manufacturing Corp.
562 Independence Road, East Stroudsburg, PA 18301
973-945-0671
marlonh(at)xenpillow(dot)com