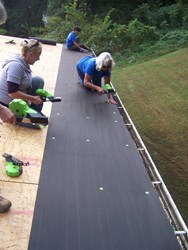 "The whole purpose of the STINGER Cap Systems line of products is to help make roofing jobs easier, faster and more efficient. Once we saw what these amazing women were doing for people in their community, we had to lend a hand." - Rocky Stroud, NNC
Grand Rapids, Mich. (PRWEB) December 10, 2013
In October 2013, National Nail Corp. (NNC), headquartered in Grand Rapids, Mich., donated their STINGER Cap Systems products to the Rutherford Housing Partnership (RHP) and their 'Women Roofers' to complete a roof rebuild for a resident of Rutherford County.
After seeing the 'Women Roofers' nailing down roofing felt by hand on an NBC Nightly News special, National Nail Corp. saw an opportunity to help out in their area of expertise—cap fasteners.
"The whole purpose of the STINGER Cap Systems line of products is to help make roofing jobs easier, faster and more efficient," said Rocky Stroud, STINGER Cap Systems Product Manager at National Nail Corp. "Once we saw what these amazing women were doing for people in their community, we had to lend a hand."
National Nail Corp. donated STINGER CH38A Cap Hammers and STINGER 3/8" StaplePacs for a roofing job in October that the 'Women Roofers' completed. The homeowner was a grandmother raising a three-year-old grandson. With limited income due to her dialysis, and water leaking throughout the house, she was in dire need of a roof repair. The 'Women Roofers' replaced the roof over two days, Oct. 18-19, 2013, working on Friday to remove shingles, put down paper with STINGER products, and prepare the roof for a church youth group to join on Saturday to put down the shingles.
"The Women Roofers bring such an energy to our organization and to have their work recognized by a national company is such a treat," said Nell Perry Bovender, Executive Director of RHP. "Thank you, National Nail Corp., for recognizing the work of these fine women."
Rutherford Housing Partnership is a small local nonprofit that provides urgently needed repairs to the homes of qualified low-income homeowners in Rutherford County, a large rural county hard hit by high unemployment rates and located in the Foothills of N.C. RHP provides materials; volunteers provide labor. Their most consistent and dedicated group of volunteers is The Women Roofers, a group of primarily middle-aged women who have roofed houses for RHP and the local Habitat for Humanity affiliate for the past 10 years.
National Nail has created or been involved with many community outreach initiatives, and actively seeks opportunities to support our communities. Our goal is simple: actively engage our company and its employee-owners to make a positive difference to serve others. To submit ideas for future volunteer or product donation opportunities, please call 1-800-968-6245 ext. 2134 or email taylor_running(at)nationalnail(dot)com.
National Nail Corp., headquartered in Grand Rapids, Mich., is an employee-owned manufacturer and distributor of high quality, innovative building product and service solutions for the residential and commercial construction industries. National Nail brands include CAMO® Fasteners, Pro-Fit® Fasteners, STINGER® Cap Systems and Impressions Storm Doors and Windows.