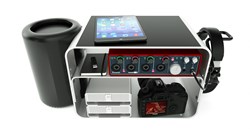 An essential tool for a Mac Pro workflow.
Albuquerque, NM (PRWEB) December 10, 2013
Hive Design Lab has solved the problem presented by Apple's new Mac Pro computer -- how to organize peripheral tools now that they live outside of the Mac Pro box. Creative techies of all types will need to command a small army of peripheral devices for their new Mac Pro, and Hive's Mac Pro Deck will give them an elegant way to create a clutter-free, desklife environment.
"Now that the revolutionary Mac Pro design has negated the possibility of internal componentry, industry professionals and prosumers alike will need an organizational tool for our peripherals. We wanted a hub like this to be simple, elegant and beautiful like all Apple's design, so we built it," said DP Gorman, Senior VP of design at Hive. "Now professionals using peripherals from Black Magic, LaCie, Aja, MOTU, G-Tech or any number of other manufacturers will have a place to put their stuff...and it's easy on the eyes."
The Mac Pro deck and adjustable shelf is constructed from 100% recyclable Aluminum with a cushy suede mat on top and a well considered headphone hanger on the side. Mounting holes allow several Decks to be mounted on top of each other if extra space is need. The Deck is guaranteed for life.
About Hive
Hive is a multidisciplinary design and production studio located in Albuquerque, New Mexico.