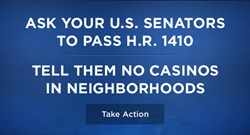 Phoenix (PRWEB) December 06, 2013
City leaders express growing concern that building a casino on a Glendale, Ariz. county island sets precedent for the Tohono O'odham Nation—a tribe from Southern Arizona—to go into any city, purchase land and convert it into an Indian reservation/casino property. The Tohono O'odham Nation is the same tribe who made public commitments to steer clear of the Phoenix-metro area when it came to casino developments during Indian gaming compact negotiations with state, city and tribal leaders in Arizona.
Opposition to this type of land acquisition from city leaders goes as far back as 2009, when mayors from Buckeye, Goodyear, Litchfield Park, Surprise and Youngtown joined Glendale in opposing a casino development by the Nation in the middle of a city. This year, Mayors from Scottsdale, Tempe, Litchfield Park, Gilbert and Glendale voiced their collective opposition to this project and support for 2013 federal legislation to resolve this matter, in editorials sent to local papers.
Recently, some made the trip to Washington, D.C. to speak one-on-one with the offices of Senators McCain and Flake, asking them to set a hearing for the federal legislation or H.R. 1410, the Keep the Promise Act, which would resolve this dilemma in Glendale. H.R. 1410 is sensible legislation, prohibiting any additional tribal casinos until the expiration of existing tribal-state gaming compacts in 2027 when all stakeholders involved can engage in a fair, transparent and public process. It passed the U.S. House of Representatives with a super majority vote and awaits a hearing in the Senate.
H.R. 1410 addresses a loophole that would allow the Tohono O'odham Nation of Tucson to create an Indian reservation in the middle of the City of Glendale, miles away from their reservation, without any input from residents or local officials. If permitted, this tribe has argued in court litigation that it also has the right to create three additional Indian reservations within the Phoenix metropolitan area to build casinos. Such rhetoric has activated city leaders in vocalizing their grave concern about this issue:

"The location of this planned facility, directly across the street from a high school, is not in the best interests of any of our communities." Mayor John Lewis, Town of Gilbert
"We are very concerned about county islands in Scottsdale being used as new gaming opportunities." Vice-Mayor Virginia Korte, City of Scottsdale
"I continue to be opposed to the casino development for many reasons including Tohono O'odham Nation's flagrant disregard for Proposition 202 which pledged to our voters no more Casinos would be built in the Phoenix Metropolitan area and for the economic and social injustice to the citizens of Glendale." Councilman Manny Martinez, City of Glendale
Local leaders await a hearing by the U.S. Senate. The public can express their opinion to Arizona Senators by going to http://www.keepingthepromiseaz.com.
Contact:
Gary Bohnee, Salt River Pima-Maricopa Indian Community, C) 480-241-3952, gary.bohnee(at)srpmic-nsn(dot)gov
David Leibowitz, Gila River Indian Community, C) 602-317-1414, david(at)leibowitzsolo(dot)com