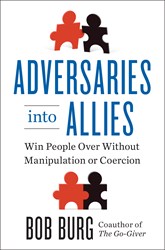 Boston, MA (PRWEB) December 09, 2013
It's that time again. Heading over to the yearly gathering of family, in-laws, out-laws, second cousins twice removed, and the politically-incorrect Uncle Harry who cannot keep his opinions to himself, always seeming to begin the argument.
Skip it this year? Why not? Because they're family and it's tradition.
Don't lose control and let Harry and or the others dominate the conversation and steamroll with their viewpoints? But how?
Bob Burg, author of the new book, Adversaries Into Allies, asks, "What if you could control your own emotions, understand where their beliefs are coming from, acknowledge the ego part of them that is involved, set the proper frame, and communicate with tact and empathy?"
Adversaries Into Allies: Win People Over Without Manipulation or Coercion (Portfolio/Penguin) shares Burg's tried-and-true framework and powerful strategies for building alliances and mastering the art of influence.
Control emotions. "Responding calmly rather than allowing your emotions to get the better of you will ensure not putting others on the defensive but rather help them remain open to your ideas," urges Burg.
Understand the clash of belief systems. Burg adds, "Every individual operates based on an unconscious set of beliefs, experiences, and ideas, which are most likely very different from yours. Understand this and you can avoid confusion and numerous misunderstandings that stand in the way of most people's ability to influence."
Always acknowledge their ego. People want to feel good about themselves. "If you make someone genuinely feel good, you're one step closer to making an ally," writes Burg.
Set the proper frame. People react and respond to other people. Approach potential conflicts from a position of benevolence, resolution, and helpfulness and they will follow suit. Vital: being able to reset another's already existing negative frame.
Communicate with tact and empathy. "While the first four principles are vital, this is what brings it all home. Saying the right thing at the right time makes all the difference in terms of moving people to your side of the issue and taking the appropriate action that benefits all concerned," concludes Burg.
Practice it. Try it. Maybe by the big July 4th picnic Uncle Harry will be an ally.