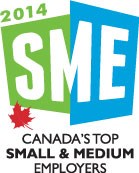 Toronto (PRWEB) December 06, 2013
Intelex is proud to announce the latest addition to their awards and accolades, as winners of Canada's Top Small & Medium Employers for 2014. This is the first year the prestigious award has been offered by Mediacorp Canada's Top 100 Employers project. With only 50 organizations across Canada included in this ranking, this national list, featured in The Globe and Mail, showcases the top small and medium employers (SME's) with under 500 employees.
"For several years, we have noticed a growing number of small and medium enterprises (SMEs) that provide their employees with great benefits and valuable workplace perks," says Richard Yerema, Managing Editor of the Canada's Top 100 Employers project at Mediacorp Canada Inc. "Not only are these SMEs matching many of the workplace policies once found only at larger organizations, but their nimble size allows them to innovate and adapt new programs more quickly than larger employers."
This award follows a series of achievements in corporate culture, management and financial performance, for the Canadian environment, health, safety and quality (EHSQ) software company – having been awarded titles such as the Deloitte Technology Fast 50, Canada's Best Managed Company and more. It is also the second time this year that Intelex has been nationally recognized as a top small and medium employer, having been included in the Best Small and Medium Employers list earlier this month.
"It's an exciting time at Intelex. We are continuously growing our company and improving our processes, it's great that our efforts are being recognized on a national level," said Mark Jaine, Intelex President and CEO. "We have a talented team at Intelex that contribute to the success of our workplace and we're thrilled to be included in a new list of Canada's best places to work."
The criteria for being a recipient of the award are a combination of application information and Mediacorp Canada's own detailed research. To determine eligibility for this list, Mediacorp uses the SME definition used by Statistics Canada that consists of private-sector enterprises with up to 500 employees.
-30-
About Intelex: With more than 850 clients and 750,000 users, Intelex Technologies Inc. is a global leader in environment, health, safety (EHS) and quality management software. Since 1992 its scalable, web-based platform and applications have helped clients across all industries improve business performance, mitigate organization-wide risk, and ensure sustained compliance with internationally accepted standards (e.g. ISO 9001, ISO 14001 and OHSAS 18001) and regulatory requirements. Intelex is one of Canada's most highly awarded and fastest-growing tech companies and has been named one of the country's top employers in The Toronto Star, The Globe and Mail and PROFIT Magazine. For more information, visit http://www.intelex.com.