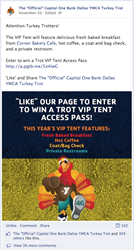 Dallas, Texas (PRWEB) December 09, 2013
The Capital One Dallas YMCA Turkey Trot, the biggest event in Downtown Dallas each year, was the ultimate way to kick off Thanksgiving Day. Both the runners and those that came to cheer them on made sure that this was an event they would never forget by getting social and sharing all of their favorite moments of the day on Twitter, Facebook, Instagram and more.
Plus, for many participants, spending the day of thanks at the Turkey Trot was a great way to give back to their local community, as proceeds went towards improving the Dallas area.
Not only was this exciting, athletic event the perfect way to work some fitness into Thanksgiving morning, but The Turkey Trot was also "stuffed" with tons fun activities for friends and the whole family to enjoy. With classic entertainment such as live music, clowns, pony rides, bounce houses, face painting, balloon animals, and more, there was something at Turkey Trot for every member of the family!
However, this event was not only for those participating in the Trot. Family and friends were able to root for their favorite runners by following the live social media feed of Instagrams and tweets on the Jumbotron. Any statuses and tweets tagged with the hashtag #DallasTrot13 appeared on the screens, and fans watching from the sidelines were also able to send messages to runners to help carry them through the race.
Social media truly was the key to success for the 46th Turkey Trot this year. By building a community year-round on Facebook and Twitter, the Turkey Trot social pages were the go-to source for event information and registration. In the last week leading up to the race, the Turkey Trot Facebook page had more than 500% increase in total reach and more than a 630% increase in engagement. The Facebook page has a total of 3,400 check-ins. The Turkey Trot Twitter page had a 1,200% increase in mentions and a 480% increase in retweet reach.
Plus, real-time customer service was provided through Facebook and Twitter delivering a better race-day experience for athletics and spectators.
Past runners and new runners were also kept 'in the know' by reading the Turkey Trot blog for exclusive information and tips. For instance, The 46th Turkey Trot early registration was announced first on the website's blog, offering participants $5 off the regular registration price. The informative blog posts also provided valuable information about the new race changes, safety regulations and training tips.
The Turkey Trot website itself also educated participants on Dallas YMCA's company mission and generated awareness, recognition and interest in the organization.
For more information on the Capital One Bank Dallas YMCA Turkey Trot , call 214-954-0500 or to register or volunteer log on to http://www.thetrot.com.
About the Y
The Y is one of the nation's leading nonprofits strengthening communities through youth development, healthy living and social responsibility. Across the U.S., 2,687 Ys engage 21 million men, women and children – regardless of age, income or background – to nurture the potential of children and teens, improve the nation's health and well-being, and provide opportunities to give back and support neighbors. Anchored in 23 North Texas communities, the Dallas Y has the long-standing relationships and physical presence not just to promise, but to deliver, lasting personal and social change. http://www.ymcadallas.org