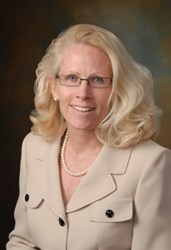 Berkeley Heights, NJ (PRWEB) December 09, 2013
Karen Graham, M.S., chief of operations at Summit Medical Group, has been recognized with the distinguished Liberty Science Center 2013 Women in STEM (Science, Technology, Engineering and Mathematics) Award, presented Monday, December 9, at LSC's annual Women's Leadership Council luncheon.
Graham was named as one of Computerworld's Premier 100 IT Leaders for 2009 and Hospitals and Health Networks' Most Wired Winner in 2008. She holds a Bachelor of Arts in Business Administration and Management from the Wharton School of Business and a Master of Science in Organizational Dynamics and Leadership from the University of Pennsylvania, both in Philadelphia, Penn. Graham also served in the United States Navy as a Naval Aircrewman, logging more than 1,000 hours of flight time in various naval aircraft.
Hosted by Liberty Science Center's Women's Leadership Council and Board of Trustees, the luncheon proceeds support STEM (Science, Technology, Engineering, and Mathematics) education programs to children and families throughout the New Jersey-New York region, especially in underserved communities.
ABOUT SUMMIT MEDICAL GROUP
Summit Medical Group (SMG) is the largest and oldest privately held multispecialty medical practice in New Jersey. SMG maintains a 42-acre healthcare campus in Berkeley Heights and 27 additional practice locations in Bayonne, Berkeley Heights, Bridgewater, Cedar Knolls, Glen Ridge, Millburn, Montclair, Morristown, New Providence, Short Hills, Springfield, Union, Verona, Warren, West Orange and Westfield. As an East Coast premier multispecialty group, SMG has provided exceptional primary and specialty care since 1929. For more, visit http://www.summitmedicalgroup.com.
###