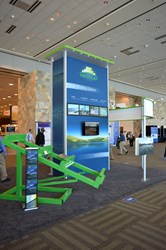 All materials are manufactured in state-of-the-art facilities that span the globe in Cincinnati, Ohio, Ontario, Washington, North Carolina, and Shanghai, China.
Cincinnati, OH (PRWEB) December 08, 2013
RBI Solar, Inc. is exhibiting at Solar Canada (CanSIA). Conference and exhibition is taking place on December 9-10, 2013, at the Metro Toronto Convention Centre in Toronto, Canada. You are invited to meet with the RBI Solar Team at Booth #207 and discuss the proven ground mount solutions for utility scale solar projects.
RBI Solar is a leading manufacturer and installer for utility scale solar mounting systems. They are a single source provider which includes design, engineering, fabrication and installation. All of RBI's solar racking designs are based on site-specific conditions that result in optimally engineered products at very competitive costs. All materials are manufactured in state-of-the-art facilities that span the globe in Ohio, Ontario, North Carolina, and Shanghai.
Solar Canada 2013 is presented by CanSIA (Canadian Solar Industries Association), a trade association representing approximately 650 solar energy companies throughout Canada. Since 1992, CanSIA has worked to develop a strong, efficient, ethical and professional Canadian solar energy industry with capacity to provide innovative solar energy solutions and to play a major role in the global transition to a sustainable future.
About RBI Solar:
RBI Solar, Inc. is the leading turn-key supplier of solar mounting systems. As a specialist in ground mount, roof mount, landfill solar, and custom designed specialty solar structures, RBI Solar focuses on providing best-in-class racking systems, installation services and project management capabilities to serve owners and integrators. RBI Solar has engineers on staff licensed in all 50 states and offers complete design, hi-tech manufacturing, nationwide installation, and technical support to help solve the toughest challenges in the industry. Leveraging more than 80 years of experience in the commercial design-build specialty structures market, RBI Solar works with its clients to identify the most economical, durable and robust solution for solar installations. Visit http://www.rbisolar.com for more information.