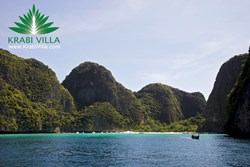 Thailand has been an increasingly popular destination for Indian tourists for some years
(PRWEB) December 12, 2013
The award ceremony was held on 28th November, 2013, at the luxury ITC Maurya Hotel in New Delhi. This glittering event was attended by around 300 leading companies in India's travel industry, including hoteliers, travel agents and airlines. The ceremony was hosted by the famous Bollywood actress Neha Dupia, which certainly added a touch of glamour to the occasion.
The Condé Nast publishing company currently operates in twenty-five different countries, and the Indian edition of the Condé Nast Traveller Magazine is the 6th edition worldwide. The magazine has quickly become the ultimate travel magazine for the Indian tourist, and this bi-monthly publication now attracts an impressive circulation of approximately 30,000 copies. Naturally, receiving an award from this prestigious magazine is a source of immense pride for Thailand, particularly as it is the readers who vote for the winner.
The award was received on behalf of Thailand by Mr Soonthorn Chaiyindeepum, the Minister and Deputy Chief of Mission at the Thai Embassy, and Miss Runjuan Tongrut, the Director of the Tourism Authority of Thailand (TAT) at the New Delhi office. Mr Soonthorn expressed his thanks to the editor and staff of the magazine, together with thanking its readers and assuring them all of a warm welcome in Thailand.
Thailand has been an increasingly popular destination for Indian tourists for some years, and Mr Soonthorn mentioned that approximately one million Indian travellers visited Thailand last year, and indications suggest that this figure will have risen sharply in 2013. TAT has done much to promote the very best that Thailand has to offer the discerning Indian tourist, and also to raise Thailand's image as a high-end tourist destination. As a result, Thailand is promoting exactly the right image to appeal to the readership profile of the Condé Nast Traveller India Magazine, which is aimed at the experienced international traveller seeking luxury travel experiences.
Raising awareness of Thailand's success at this year's awards is particularly important to Krabi Riviera Co Ltd. The company is a major contributor to the success of the tourism industry in Krabi due to its impressive portfolio of holiday villas in the Ao Nang area. Every property on Krabi Riviera's portfolio benefits from a very high standard in style and comfort, and the company prides itself in delivering exemplary customer service to all its guests.
Thailand's success at the Condé Nast Traveller Readers' Travel Awards is just the latest in a long line of awards received this year in recognition of the country's outstanding facilities and natural beauty. With its dynamic tourism authority and vibrant tourism industry, it appears the future of tourism in the beautiful Kingdom of Thailand is in safe and capable hands.