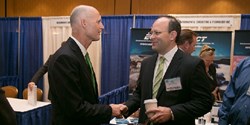 Fort Myers, FL (PRWEB) December 06, 2013
Polygon Solutions and a variety of other manufacturers from Southwest Florida attended the 10th Annual Manufacturer's Summit and Marketplace held December 4-6, 2013 at the Vinoy Renaissance St. Petersburg Resort and Golf Club. The Manufacturer's Summit is sponsored and hosted by the Manufacturer's Association of Florida. Members of the Southwest Regional Manufacturer's Association are also associated with the event.
Peter Bagwell, who spoke at the event last year, was impressed with the program and the participants. "Anytime we get a chance to speak with other manufacturers about the changes going on that benefit the business climate for manufacturers in the State of Florida, it's pretty exciting," said Bagwell. "There's been so much good news lately. We also take advantage of the opportunities to learn about the best practices from our peers, the changes in regulatory issues that affect us and what we can do to help each other."
Some of the new efforts manufacturers are supporting are programs called 'Dream It! Do It!' and 'Manufacturing Day', sponsored by national manufacturing associations. Many of the companies were given awards for their efforts and strides to reach out to students and others in the community who could potentially be planning careers in manufacturing. Polygon Solutions has participated in the programs for the last two years.
Governor Rick Scott was on hand to speak to manufacturers before the session started, and was also given one of the awards for his efforts to support manufacturing. Arcadia Aerospace Industries was one of the Manufacturers of the Year winners and Pelican Wire in Naples was also a finalist. Two of last year's winners, Mike Carter of Syngenta Flowers in Alva, FL, and Kevin Hawkesworth from Shaw Development in Bonita Springs, FL, both presented awards for the program.
Many of the successful manufacturer's in Southwest Florida rely on the association they have with each other. Program highlights including 'Resources for Preparing the Manufacturing Workforce of the Future', 'Hiring and Training the right People', 'Tax Law Changes You Need to Know', and 'Florida Manufacturing Research Initiatives' are critical for manufacturers. Polygon Solutions encourages all Florida manufacturers to join their local Manufacturing Associations.