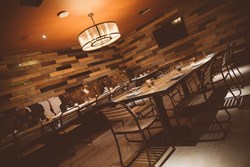 Jacksonville, Florida (PRWEB) December 09, 2013
Maine has made a home in the Markets at Town Center, in Jacksonville, Florida. In partnership with New England's leading source for river reclaimed timber, Maine Heritage Timber, and new restaurant Moxie Kitchen + Cocktails, delivers patrons a captivating atmosphere and memorable culinary experience, unlike any other in northern Florida.
Paying homage to Chef Tom Gray's Maine roots, Moxie Kitchen + Cocktails' charming character is inspired by Maine's rich history of wood and lumber. Throughout this restaurant you will find majestic pieces of history. From the exquisite pine tables to breathtaking overhead beams, interior wall paneling, bar tops and tables.
Highly sought after by some of the nation's most successful businesses, Maine Heritage Timber creates exquisite rustic and stunning river-reclaimed wood products. Originally felled over a century ago, this sunken timber has been preserved under nature's cover resulting in beautiful hues, tight grains and unique charm. Completely pure in character and free of chemicals, this limited supply of timber is of utmost quality and historical provenance. Along with a delectable menu, inside Moxie Kitchen + Cocktail you will find:

Bar Tops: Cut from ax fallen oak logs from 1899, these exquisite handcrafted bar tops illuminate the interior space.
Table Tops: Made with spruce/fir and oak, and mixed with metal to achieve Chef Tom's vision.
Beams Overhead: Made from spruce logs, originally intended for delivery to cities during the industrial revolution in the mid 1800's.
Bar Tables: Stunning end grains and rings accentuate the meld of metal and wood.
Outdoor Tables: Destined for use in British ship building in the early 1800's, these classic pine tables feature original patinas and elegantly match the refined flooring.
Wall Treatments & Outdoor Benches: Elegant spruce and fir cut in the mid 1800's.
Front Bench: Made of Douglas Fir that was first shipped by railcar from Washington and Oregon in the early 1900's. Originally used as booms to corral the wood in the water, this beautiful non-indigenous species is a living part of history.
Experience the unique ambiance Moxie Kitchen + Cocktails and Maine Heritage Timber has created at 4972 Big Island Drive, Jacksonville, Florida. To make your reservations, please call (904) 998 – 9744.
Maine Heritage Timber offers an exquisitely rare variety of custom sustainable solutions for both residential and commercial customers. For more information on Maine Heritage Timber, please visit: http://www.maineheritagetimber.com.
###
ABOUT MOXIE KITCHEN + COCKTAILS
Chef Tom Gray brings "locally-owned" to the Town Center neighborhood with Moxie Kitchen + Cocktails at the Markets at Town Center in Jacksonville, Florida. The two-time James Beard Award-nominated chef and his skilled team favor a contemporary approach providing creative, seasonal menus for lunch, dinner and weekend brunches. An "American flavors from coast to coast" menu offers interpretative takes on classic favorites while craft cocktail, local brew and Cal-centric wine menus command their own attention. Inside the two-story restaurant, an urban rustic decor dominated by reclaimed wood, steel and richly-toned fabrics sets a modern tone to the dining rooms, and the buzz of the "extremely open kitchen" and bars make for a lively atmosphere. Open-air patios and a covered dining terrace provide outdoor dining options year-round with views on the nearby lake. For additional information e-mail hello(at)moxiefl(dot)com or visit http://www.MoxieFL.com.
ABOUT MAINE HERITAGE TIMBER
Maine Heritage Timber, located in Millinocket, offers an exquisitely rare variety of custom flooring, millwork, furniture, and wainscoting materials. These high-quality wood products are created using sunken virgin growth timber lost to Maine's Penobscot River during the logging gold rush and have been preserved under nature's cover for over 100 years. Maine Heritage Timber carefully reclaims this limited supply of logs in order to yield exquisite wood products of the utmost quality that are truly available nowhere else. Maine Heritage Timber preserves 1000 acres of timberland annually from being cut and assists in the revival of an otherwise dormant ecosystem. The company's wood products have been sought after by some of the nation's most successful businesses, including LL Bean, Sugarloaf Ski Resorts, The River Drivers Restaurant and Florida's Moxie Restaurant. Maine Heritage Timber's classic, river-reclaimed timber products are available for purchase via phone (207-723-9200) and online at http://www.maineheritagetimber.com.
Media Contact: Liz Muroski, People Making Good PR, liz(at)peoplemakinggood(dot)com, 802.863.3929