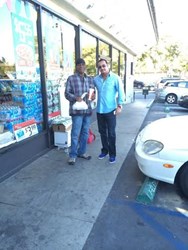 We lean on one another to better the community
Los Angeles, CA (PRWEB) December 06, 2013
When Hollywood club owner and businessman Tony Toutouni decided he wanted to give back to his city, he came to the mayor's office. Lucy Goldberg, the Mayor's Deputy Director of Legislative and Community Affairs, connected the dots and put Toutouni in the capable hands of one of LA's biggest community heroes – Willem Dessler and his philanthropic organization, The Dessler Foundation. Days later and they were handing out free turkeys and facilitating a coat drive in LA's skid row on Thanksgiving Eve.
"I'm a true believer in the scripture that says 'To whom much is given, much is required,'" Willem Dessler, president of the public relations firm Dessler Media, explained. "This is a great way to spend the day before Thanksgiving."
The spirit of giving and taking care of one's fellow man was in the air in the gymnasium of the Dessler community space, as 200 turkeys were handed out, provided by Tony Toutouni, and coats were dispensed to prepare needful neighbors for the impending cold winter.
"I'm always excited when generous organizations take the lead," Lamar Washington, homeless advocate. "Government can't do it all, and when entertainers and community leaders [take the lead], it strengthens and builds community."
Residents anywhere near the Dessler Center already know that Dessler has been giving back to the community for years. He stressed that the holiday season isn't and shouldn't be the only time of year to think about giving.
"It's always good throughout the year but especially during the holidays," Dessler community space president and founder, Willem Dessler said. "We lean on one another to better the community."
Toutouni and Dessler have worked together in the past, but mostly when the two were involved in huge business deals rather than being community heroes.
No doubt Tony Toutouni's and Willem Dessler's partnership through the Mayor's office was one that benefited hundreds of the needy, but events like these were happening all over the city last week. Thanksgiving is a holiday for which it seems most in LA refuse to let neighbors and friends go without a satisfying and spirited meal.