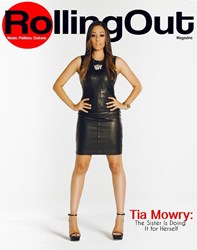 I really enjoy working with kids.
Atlanta, GA (PRWEB) December 06, 2013
Tia Mowry is in a great place. She's grown from an adorable teenager to a vivacious young woman and established television star who is basking in the glow of motherhood and matrimony.
"I like the family dynamic of the show," the star of Nickelodeon's family focused sitcom, "Instant Mom" tells entertainment writer Todd Williams. "I'm a mom and to be able to play a mom for the first time on television, I was really excited about that. And she's not just any mom; she's a smart, sassy, hip stepmom. I liked the whole angle of that. I thought the writing was very smart and I really enjoy working with kids."
Her personal life has undergone tremendous change in the past few years, all of it positive. She married the love of her life, actor Cory Hardrict, and she gave birth to a baby boy named Cree. With so much transition, she's also managed to maintain her career — a feat that she insists wasn't as easy as it looked.
"Motherhood has taught me that I really am a patient person."
Visit rollingout.com to read the interview in its entirety. Be sure to check out this and other exclusive photo shoots and video footage with celebrity photographer DeWayne Rogers.
About rolling out Magazine:
Rolling out, the nation's largest free urban weekly, is a digital and print magazine that focuses on the black experience in response to entertainment, politics, fashion, culture, sports and lifestyle points of interest. Headquartered in Atlanta, rolling out is positioned as the voice for the African American experience, using its newspaper as a platform in the marketplace to express urgency for education reform, and to document entrepreneurial endeavors and other relevant issues in the Diaspora. For information on rolling out, please log on to rollingout.com.