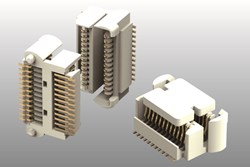 SHANGHAI (PRWEB) December 10, 2013
In response to the electronics market's increasing need for smaller connectors that handle faster speed, TE Connectivity (TE), a world leader in connectivity, today introduced a new 0.5mm fine pitch hermaphroditic (FPH) board-to-board connector for parallel stacking of printed circuit boards. This hermaphroditic, "mate-to-itself" interconnect system is robust yet economical, helping consolidate connector selection, reduce component engineering and part maintenance costs, and eliminate material scrap on the factory floor.
"The cleverly designed 0.5mm FPH board-to-board connector can reduce our customers' engineering design costs and simplify their connector qualification, documentation and maintenance processes. This cannot be achieved by conventional stacking connectors with plugs and receptacles," said Greg Paukert, product manager, TE Consumer Devices. "This connector also benefits customers in a wide range of applications, including portable and mobile electronic equipment, hard-disk drives, medical and instrumentation, point-of-sale retail equipment, sensors, motor vehicles, metering and energy, and communications and networking."
Designed to mate to itself, TE's 0.5mm FPH connector allows two of the same connectors to mate. With this unique hermaphroditic contact design, customers don't need to have both plug connectors and receptacle connectors for board-to-board applications, eliminating half of the part numbers. In addition, this TE connector has an extreme operating temperature range and high-speed data transfer capacity.
Additional information on TE's 0.5mm FPH board-to-board connector can be found at http://www.te.com/products/0.5FPH-PR.
ABOUT TE CONNECTIVITY
TE Connectivity is a $13 billion world leader in connectivity. The Company designs and manufactures products at the heart of electronic connections for the world's leading industries including automotive, energy and industrial, broadband communications, consumer devices, healthcare, and aerospace and defense. TE Connectivity's long-standing commitment to innovation and engineering excellence helps its customers solve the need for more energy efficiency, always-on communications and ever-increasing productivity. With nearly 90,000 employees in more than 50 countries, TE Connectivity makes connections the world relies on to work flawlessly every day. To connect with the Company, visit: http://www.TE.com.
Contacts:
Media Relations:
Grace Zheng
TE Connectivity
+(86)-21-33980797
grace.zheng(at)te.com
Product Communications:
Gregory Paukert
Product Manager
+(1)-717-986-7332
gregory.paukert(at)te.com