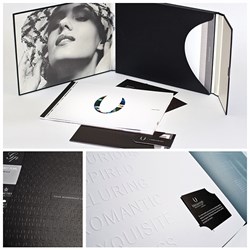 Orlando, FL (PRWEB) December 09, 2013
Brand Tango of Deerfield Beach, FL has recently been honored with two more awards for its design of the Unlimited Vacation Club Member Kit. The Unlimited Vacation Club by AMResorts, a longtime client of Brand Tango, is an exclusive travel club with properties in Mexico and the Caribbean.
In fall 2013, AGDA awarded the Unlimited Vacation Club Member Kit the American Graphic Design Award in the category of Brochures and Collateral. Also in fall 2013, the Printer's Association of Florida (PAF) awarded this piece with first prize in the Best of Category for Overall Content - Special Application on Presentation Kits.
The two latest awards follow previous accolades for the Unlimited Vacation Club materials that include:

Two Local Gold ADDY awards (American Advertising Federation), for Four-Color Brochure and Packaging Campaign.
A District Gold ADDY award for Sales Promotion – Packaging.
A District Silver ADDY award for Collateral – Brochure.
SAPPI Fine Paper Gold Winner for Brochures at the Annual North American Printers of the year Awards for 2012-2013
"We are delighted to be collecting so many important awards for our Unlimited Vacation Club materials," said Corporate Marketing Director, Eliana Jones.
Brand Tango, a comprehensive marketing, design, and technology company, has been honored with many ADDY (American Advertising Federation) awards over the years for creative work on behalf of its clients, and this is the fourth time the company has produced materials nominated for National ADDY awards.
"This has been such a pleasant surprise," said James Kluetz, Brand Tango's creative director and the kit's designer. "The design team at Brand Tango has been highly focused on creating immersive brand experiences on tablets and mobile devices, so it was nice to see that our print work is still garnering attention and being recognized by industry peers."
"We felt sure this piece was going to be a winner for Unlimited Vacation Club, and their strong sales show we were right," said Joe Russoniello, Brand Tango president. "The industry recognition we have received has also been gratifying."
Speaking about the Sappi Awards, Dr. Malcolm Kief, a judge and a professor in the Graphic Communication Department at California Polytechnic State University, said: "The winner of the Brochures category this year was over the top. It had everything. There's this beautiful black, fabric-covered case, and on the inside is a wonderful black-and-white halftone printed on metallic paper. Then you pull out the actual book...it had die-cutting and embossing. It had all kinds of amazing components. The inside was really a very simple design, but the photographs were reproduced just flawlessly with lots of contrast, lots of vibrant color, and lots of white space, so the white paper really added a nice dimension to the book. It was terrific!"
What is perhaps the most stand-out recognition of excellence is the wide range of industries that the Unlimited Vacation Club materials have been honored from, which include printing, advertising and graphic design; combined with the broad award categories, spanning brochures, packaging, collateral and sales promotion.
For more information and examples of their work, visit http://brand-tango.com or call (954) 295-7879
About Unlimited Vacation Club
The Unlimited Vacation Club by AMResorts is an exclusive travel club whose members receive VIP privileges at AMResorts properties in Mexico and the Caribbean, including guaranteed preferred rates and special offers. Through a variety of participation levels, discerning travelers can earn free night stays at luxurious resorts and access to exclusive partner offers. In addition, participants can take advantage of preferential rates for a large variety of room types at different AMResorts properties, which include brands such as Zoëtry Wellness & Spa Resorts, Secrets Resorts & Spas, Breathless Resorts & Spas, Dreams Resorts & Spas, Now Resorts & Spas, Sunscape Resorts & Spas and the New Breathless Resorts & Spas.
About Brand Tango
Brand Tango is a comprehensive marketing, design, and technology company with clients in hospitality, real estate, financial services and consumer products and services. The agency has been recognized nationally with over 200 design, technology and business awards for clients in nearly two-dozen industries across three continents. Relying on their decades of combined expertise, their principals and staff help clients find solutions that deliver measurable results. Follow them on Twitter @brandtango or Facebook at Facebook.com/BrandTango. For more information, visit Brand-Tango.com or call 954-295-7879.