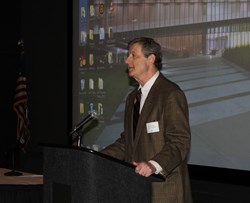 'I would strongly suggest we should spend a significant portion, or all of the money, on I-49.' - Louisiana State Treasurer John Kennedy
Lafayette, LA (PRWEB) December 10, 2013
Projects along the I-49 South corridor between Lafayette and New Orleans should be first in line to receive an estimated $140-$180 million in expected state revenue surplus funds at the end of this budget year, Louisiana Treasurer John Kennedy told a group of I-49 South supporters on Thursday, December 5, 2013.
"I would strongly suggest we should spend a significant portion, or all of the money, on I-49," Kennedy said at the I-49 South Stakeholders meeting. Kennedy said surplus funds are considered non-recurring revenue, and that money should go to construction projects, such as the ones waiting for funding along the vital I-49 South corridor.
Kennedy also noted that many people talk about the importance of I-49 South, which has been designated as "America's Energy Corridor," but the overall project lacks adequate funding. "We ought to put our money where our mouths are," Kennedy said.
State Rep. Joel Robideaux, who chairs the House Ways and Means Committee and the joint Legislative Committee on Capital Outlay, also was at Thursday's meeting, and he agreed with Kennedy's proposal.
"I liked what I heard from Treasurer Kennedy," Robideaux told the audience of about 75 people. "We need to make I-49 South a priority just as we did a few years ago for I-49 North."
Former State Sen. Mike Michot, who serves as Interim Director of the I-49 Coalition, moderated Thursday's discussion and welcomed the audience on behalf of Lafayette Mayor-President Joey Durel, who could not attend because of a death in his family. Michot stressed that bringing all of the I-49 South corridor up to interstate grade isn't a local issue. "This is a vital corridor for our state's economic interests," Michot said, noting that the corridor is a critical component to supporting Louisiana's oil and gas industry, which has a $77 billion annual economic impact on the state.
Many speakers cautioned that, however the corridor eventually is financed, it will take more money than is available now. That means someone will have to put up more money, either in higher fees or tolls, said Dr. Kam Movassaghi, former DOTD Secretary and current President of Fenstermaker, an engineering consulting firm and also a sponsor of the meeting.
"Fundamentally, there are only two ways - taxes and tolls," he said. "All of these options, the public-private partnerships and such, those are mechanisms. Someone still has to pay."
I-49 International Coalition Executive Director Gard Wayt pointed out that Arkansas, which is trying to finish a section of I-49 in the western half of the state, realized it needed more money for that and other transportation projects and recently passed a half-cent sales tax dedicated to roads.
Kevin Davis, chief of the Governor's Office of Homeland Security and Emergency Preparedness, said completing I-49 South is important not only for hurricane evacuation but also for the critical recovery period after a hurricane or other disaster. "I learned that first-hand after Katrina," said Davis, who is the former president of St. Tammany Parish.
The Louisiana Department of Transportation & Development (DOTD) Deputy Secretary Eric Kalivoda told the stakeholders that the estimated cost of completing the 140-mile corridor is about $5 billion, but he said he is hopeful DOTD can be successful in presenting the federal government with some environmental alternatives to the expensive elevated roadway section. "We think we can cut the cost in half," he said.
Other officials who gave presentations at the meeting included State Sen. Page Cortez; State Rep. Bret Allain; Federal Highway Administration (FHWA) Louisiana Administrator Wes Bolinger; Jefferson Parish President John Young; St. Mary Parish President Paul Naquin Jr.; Lafayette Chamber of Commerce President and CEO Jason El Koubi, and Gregg Gothreaux of the Lafayette Economic Development Authority. Also attending were State Rep. Stephen Ortego, State Rep. Jack Montoucet, several members of the Lafayette Consolidated Government, Louisiana Good Roads and Transportation Association President Ken Perret and many representatives from the oil and gas industry and engineering industry. Thursday's meeting was held at Louisiana Immersive Technologies Enterprise (LITE) at The University of Louisiana at Lafayette's Research Park.
The I-49 South Coalition's mission is to unify all stakeholders' efforts into a focused organization to fight for the advocacy, promotion and funding for the completion of I-49 South, America's Energy Corridor.
In addition to Fenstermaker, other sponsors of the meeting included Frank's International, HNTB, Knight Oil Tools, Mello Joy Coffee, and Louisiana Immersive Technologies Enterprise (LITE).
Visit the Fenstermaker website to view the original release by Lambert Media.
For more information, contact:
Mark Lambert
(225) 937-8113
Lambert Media