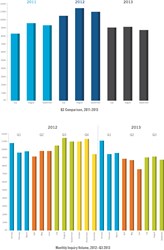 Paramus, N.J. (PRWEB) December 09, 2013
Although typically a strong quarter for inquiry volume, the third quarter of 2013 was the second consecutive quarter of year-over-year declines, according to CUnet, a performance marketing agency focused on higher education. "It appears that schools are scaling back their inquiry generation marketing spend due to disappointing conversion rates," explained Elizabeth Dye, director of analytics at CUnet. Quarterly conversion rates dropped year over year for both internal and external channels, according to the CUnet Agency Services Q3 2013 Industry Review, published December 9, 2013.
"August volume was almost flat compared to July," continued Dye. "Historically we have seen a big jump for the beginning of the back-to-school season." Inquiry volume in August of 2012 rose more than seven percent month over month, and August of 2011 saw a month-over-month increase of more than 12 percent.
"This report puts numbers to what we already anticipated," said Kim Kelly, managing director of agency services at CUnet. A CUnet-sponsored report, published earlier this year by Inside Higher Ed, states that more than three quarters of all higher education institutions surveyed were concerned about meeting their 2013 enrollment goals. "Schools are looking to fill their classrooms," continued Kelly. "And they're realizing that to succeed they need a data-driven campaign focused on finding true student prospects."
CUnet provides services designed to streamline higher education online marketing efforts, including inquiry generation. Their full-service management leverages years of digital experience to create customized marketing strategies based on individual school objectives. With an exclusive focus on the higher education industry, CUnet monitors and stays ahead of trends to identify strategic solutions and resources able to deliver maximum return on every marketing dollar invested. Sparkroom, owned by CUnet, is the most widely deployed enrollment marketing application in higher education, and furnishes the required intelligence to build and optimize successful campaigns.
The CUnet Agency Services Q3 2013 Industry Review explores key trends that shape inquiry and student acquisition outcomes for schools, focusing on volume, cost per inquiry, conversion rates and program share of volume. The report is developed with the intent to present seasonal volume variance trends to allow higher education institutions to best plan their marketing dollar distributions. The Q3 2013 report was based on a dataset of inquiries processed by Sparkroom during the period of January 1, 2011, through September 30, 2013.
Click here to download the CUnet Agency Services Q3 2013 Industry Review.
For more information about CUnet's expertise, products and services in higher education enrollment marketing, please visit http://www.cunet.com. Request a personal Sparkroom demonstration at http://www.cunet.com/sparkroom.
About CUnet
For almost a decade, CUnet's enrollment marketing experts have helped colleges and universities reach, recruit and enroll the best students for their programs. With the industry's leading technology platform, a comprehensive set of online marketing services and a network of targeted media providers, CUnet partners with higher education institutions to deliver student candidates, holding itself accountable to lowering overall acquisition costs while driving enrollment growth. CUnet's recruitment marketing services are supported by a network of proprietary websites, including their flagship site, CollegeInfo.com, and the CollegeQuest.com student advisor service. CUnet is dedicated to providing the highest standards of transparency and compliance while promoting ethical marketing practices in postsecondary education. Headquartered in Paramus, NJ, CUnet is a subsidiary of Nelnet (NYSE: NNI), a leader in education planning and financing for more than 30 years. For more information, visit http://www.cunet.com.
###