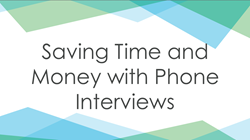 "Phone interviews can be one of the best ways to determine which candidates should be brought in for further interviewing." -- Morgan Gleasman, Hireology's HR coordinator
Chicago, Ill (PRWEB) December 10, 2013
Hireology, the leading selection management platform for distributed enterprises, has released a recording of their most recent webinar, "Saving Time and Money with Phone Interviews".
Featuring Hireology's account manager, Liz Simon, and HR coordinator, Morgan Gleasman, the webinar focuses on how to conduct an effective and efficient phone interview. Covering topics such as interview structure and types of questions, the discussion aims to help hiring managers better understand the purpose of phone interviews and how to conduct them in a way that ensures valuable candidate information is gained and time is not wasted.
"Many hiring managers see phone interviews as just another thing to be checked off a list," said Morgan Gleasman. "However, if conducted properly, phone interviews can be one of the best ways to determine which candidates should be brought in for further interviewing. That's why we put together this webinar - to show managers that phone interviews are so much more than just asking the candidate to regurgitate the information already found on their resume."
To view the webinar, please click here. For further information on phone interviewing best practices, please visit The Hireology Blog.
About Hireology
Hireology is the leading selection management platform for distributed enterprises. Their award-winning Selection Manager™ includes everything an operator needs to manage their hiring process, including a fully hosted career site, integrated job postings, compensation analysis, pre-hire assessments, interview guides, background checks, skills verification and more. Franchise systems, banks and financial institutions, healthcare systems, dealer networks, and other multi-site operators use Hireology's web-based platform to deliver consistent and repeatable hiring decisions in the field - leading to lower turnover and increased profitability per location. For more information, please visit http://www.Hireology.com/.