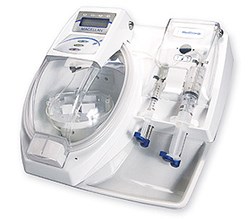 (PRWEB) December 07, 2013
PRP411.com is a nationally-recognized and entirely user-friendly Internet portal that operates as an online search-and-booking platform specifically designed to accommodate patients and medical practices within the respective healthcare niche of prolotherapy. Serving as a paramount support portal that has the intended mission of assisting any physician who endorses and practices the medicinal benefits of platelet-rich plasma prolotherapy (often deemed P.R.P.), PRP411's unique system functionally operates in order to come to the aid of patients who wish to acquire additional information or inquire about making an appointment for this up-and-coming form of treatment.
With widely-acclaimed athletes such as Tiger Woods, Peyton Manning, Kobe Bryant, Rafael Nadal and most recently the Los Angele Laker's own Jordan Farmar receiving this unique form of prolotherapy to mend injuries, platelet-rich plasma therapy is currently becoming one of the most popular forms of healing treatments in the world. Prolotherapy, more specifically platelet-rich plasma prolotherapy, features a method of administration where a patient's blood sample is obtained and put into a centrifuge, which then separates the blood into its many various components. Platelet rich plasma can then be collected and treated before it is delivered to an injured area of bone or soft tissue, such as a tendon or ligament.
This budding form of healing features many benefits to patients including those such as faster hemostasis with less blood loss (which eliminates the need for additional transfusions following surgery), increased healing of incision sites and a greater range of motion. Patients also experience a reduced length of stay following a procedure because of the ability to ambulate sooner with far less pain and inflammation. Additionally, patient's also experience a reduced risk of pulmonary complications, which is a common problem for post-op patients who underwent procedures of a sternotomy and thoracotomy.
Patients who have sought after this treatment have typically suffered from a document-driven medical condition such as osteoarthritis of the knee, shoulder, hip and spine, rotator cuff tears, chronic plantar fasciitis, anterior cruciate ligament (abbreviated A.C.L.) injuries, pelvic pain and instability, back and neck injuries, tennis elbow, ankle sprains, tendonitis and ligament sprains. PRP411 will not only be serving as a driving force for drastically increasing a medical practices' patient base on a day-to-day basis, but it will also serve as an informative portal for inquiring patients who feel uneducated and out of the loop on platelet-rich plasma prolotherapy.
As a subscription-based healthcare service, PRP411.com is a sure-fire doctor directory that will soon revolutionize the way healthcare is currently practiced. It seems like not too long ago PRP411.com recently launched an all-new and user-friendly web domain that will serve as its regularly-attended patient portal. The company's web portal features a clean, professional and easy-to-navigate web template that was completed by the marketing specialists at Brownie Wise, L.L.C., which is a highly-acclaimed marketing solutions company that has provided PRP411 with an already proven business model. The two companies are working in a cohesive manner to seek out medical practitioners that practice this biological boost of healing to feed the absolute inundation of patients seeking this treatment.