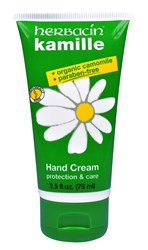 We're proud to offer a full beauty line that will address all types of skin--from oily, to dry to combination skin. We have something for every part of the body, so Herbacin can be your winter skin go-to brand.
Dallas, TX (PRWEB) December 09, 2013
Herbacin®, a family owned and operated European skincare line has over 100 years experience in taking care of winter skin. Generations of women have relied on Herbacin, specifically the Kamille Line, to take care of their skin year-round, relying on it's deep hydrating, moisturizing and healing properties especially during the harsh winter months.
The cold weather can lead to dry, chapped and even cracked skin and sensitive spots. Parts of the body that are most exposed to the cold elements, such as lips and hands are especially vulnerable and in need of extra care. But, it's also important to moisturize other parts of the body that may be covered in layers of clothing. It's easy to overlook dry, flaking skin on arms and legs as we pull on leggings and sweaters! With a natural body care system like Herbacin, it's easy to have super soft, glowing skin all year round. Organic herbs and botanicals in Herbacin's formulas wrap skin in an invisible protective barrier to keep the elements out and the moisture in.
"Sometimes we forget that our skin may need additional protection from harsh winter weather." commented Najda Thien of Herbacin. "We're proud to offer a full beauty line that will address all types of skin--from oily, to dry to combination skin. We have something for every part of the body, so Herbacin can be your winter skin go-to brand"
The Herbacin Kamille Line offers a full body care system to take care of the skin all winter long, including:
● Glycerine Hand Care -- A hand cream that goes on like an invisible glove, keeping a smooth protective layer on the skin that will help keep hands safe and smooth.
● Kamille Hand Cream -- Triple protection for skin, including the natural healing properties of camomile extract, natural glycerine and natural silicone.
● Hand & Nail Balm -- With the same properties and ingredients of the hand cream, this balm offers highly effective nutrients for the nails.
● Skin Firming Body Cream -- A fine composition of argon oil, aloe vera, camomile and vitamins that work together to provide a skin-firming formulation and moisturizes the body.
● Shower Gel -- This mild washing lotion is great for daily care, as it revitalzes and refreshes sensitive skin.
● Lip Balm -- Herbacin lip balm contains a combination of pure vegetable oils and organically grown camomile. It is sure to make lips noticeably soft and smooth, provides reliable protection and prevent chapped lips.
● Soft Hand Cream -- A lighter and softer hand cream that offers rapid absorption. With a ingredients such as vitamin E, plant glycerin and provitamin B5 in a specially mild formula help to prevent the skin from drying out.
● Kamille Soap Bar -- This soap bar contains only plant-based ingredients and gently cleanses and cares for your skin, while keeping it hydrated.
As the seasons move into fall and winter, Herbacin® can take of all skin types with fast absorbing, long lasting hydration. With the first application, it becomes clear why so many women have been relying on Herbacin for years to keep their skin in tip-top condition.
Herbacin recently launched a comprehensive Foot Care Line, to help keep legs and feet soft and moisturized. The Foot Care Line includes: Cooling Gel, Warming Balm, Foot Lotion and Leg Lotion.
"We want to continually add to our Herbacin line, both with the best organic and natural ingredients and innovative formulas, so we can take care of the skin year-round," commented Stephan Thien of Herbacin.
For samples of the new Herbacin products, please contact, Leesa Raab, Leesa@Adinfinitumny.com, 212.693.2150 x314
About Herbacin
Founded in the heart of Germany in 1905, Herbacin created a very distinctive brand early on that still reflects the close proximity to nature. Cultivating its own plants and herbs for decades, the entire Herbacin line goes through dermatological testing and are produced at the company's facility in Wutha-Farnroda, Germany. The line includes: Herbal Facial Care, Herbal Hair Care, Herbal Shower Gel, Herbal Aroma Bath, Herbal Bath Sensations, Wellness Baths & Showergels, Foot Care Line, Wuta® Kamille White Line and Herbacin® Kamille Green Line.