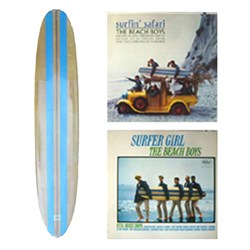 Los Angeles, CA (PRWEB) December 09, 2013
Rockaway Records is thrilled to announce that it is offering for sale, the original Beach Boys surfboard pictured on numerous record covers including Surfin' Safari (1962) and Surfer Girl (1963) and in many Capitol Records publicity photos. This one-of-a-kind icon of music history was originally owned by Beach Boy, Dennis Wilson (the only real surfer in the group).
This is undoubtedly one of the most incredible and important pieces of Beach Boys memorabilia to ever hit the market and there's a strong argument that without this board there may never have been a Beach Boys, for it was Dennis Wilson who rode this board numerous times at local beaches and recognized how popular surfing had become. He later suggested that their first single be a song about the surfing craze. The result was "Surfin," which became their debut single.
In the 1970s, Dennis Wilson gave the board to his close friend Louis Marotta as a gift. Louis kept the board in his garage until 1985, at which time he gifted it to his close friend Bob Stafford who currently owns it and who reached out to Rockaway Records to broker its sale on his behalf.
This board was recently the focal point of the year-long exhibit "Good Vibrations: 50 Years of the Beach Boys" (Sept 2012-Sept 2013) at the Grammy Museum in Los Angeles, where it was insured for $200,000. Along with impeccable photo identification, the sale includes Bob Stafford's typed, dated, signed and notarized recollections of Louis Marotta, Dennis Wilson, and Stafford's account of how he acquired the surfboard. The price for this rare and unequaled artifact of music history is $150,000.
Since its inception, Rockaway has sold some of the world's rarest records and memorabilia, including the 2008 sale of a Beatles record for $80,000. The record was a 1966 sealed, mint-condition original first state stereo "butcher cover" that came from the collection of Alan Livingston, president of Capitol Records in 1966.
To view this surfboard as well as other great Beach Boys' memorabilia, visit the Rockaway Records' retail store at 2395 Glendale Blvd, Los Angeles, CA 90039, in the Silver Lake area. Rockaway Records is open seven days a week from 11 a.m. to 7 p.m.
For more information and to see photos, visit http://www.rockaway.com.