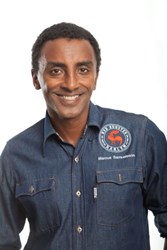 Indianapolis, Indiana (PRWEB) December 09, 2013
Bullseye Event Group, a leading sports, travel and event management company, recently announced that Vy Higginsen's Harlem Gospel for Teens Choir will provide entertainment for the Super Bowl Players Ultimate Tailgate, on February 2nd, 2014 from 11:00 am- 4:00 pm at Gotham Hall (1356 Broadway, New York, NY 10018). In addition to this entertainment, celebrity chef Marcus Samuelsson, of New York City's Red Rooster Harlem, will cater the event where 20+active NFL players will be in attendance.
The Harlem Gospel for Teens choir will perform for the lighting of the Rockefeller Christmas tree, to be aired on NBC on December 4th. They will perform alongside Mariah Carey and Ariana Grande. Recent performances include with MADONNA on NBC's "Hope For Haiti" telethon, with DIONNE WARWICK, CISSY HOUSTON, CHAKA KHAN and VALERIE SIMPSON.
The Harlem Gospel for Teens choir has sang for the likes of Jennifer Hudson, Angela Bassett, Russell Simmons, Forrest Whitaker, Antonio Banderas & Melanie Griffith, Sting and have been seen on CBS television on 60 Minutes.
Kyle Kinnett A Bullseye Event Group spokesperson said, "We are thrilled to have the Harlem Gospel for teens choir as a part of our Super Bowl Players Ultimate Tailgate. Most of these children will never have the chance to experience a Super Bowl and this is our little way of exposing them to the Super Bowl experience. I am sure our clients will be as blown away by them as I personally was."
The Gospel for Teens choir, founded and directed by Vy Higginsen, is a branch of the non-profit center, MAMA Foundation for the Arts. This award winning choir was founded by Vy Higginsen in an effort to pass gospel music on from generation to generation. She hopes to teach gospel music to at-risk teens as more than just an effort to keep them off the streets, but also to keep the art form of gospel music alive in the age of hip-hop and rap music.
The Super Bowl Players Ultimate Tailgate Party will not only showcase fabulous entertainment, but it will play host to some of the finest food in New York City! Super Bowl Players Ultimate Tailgate Chef will Marcus Samuelsson whom recently released his New York Times Bestseller and James Beard wining memoir Yes, Chef in 2012 to rave reviews. He has been featured on a number of television shows including Late Night with Jimmy Fallon, the Martha Stewart Show, Today Show, Regis and Kelly and Charlie Rose. He was the winner on Bravo's Top Chef Masters Season Two and serves as a recurring judge for Chopped, one of Food Network's highest rated series with a following of over 20 million viewers a month. Marcus was also named the winner of the second season of Chopped All-Stars. Marcus has also been honored as a guest chef at the White House under the Obama Administration.
The Super Bowl Players Ultimate Tailgate Party will also include:
-- Attendance of over 20 active NFL players
-- Super Bowl Sunday "Pregame Chalk Talk" with an NFL Celebrity (TBA)
-- Cirque USA entertainers
-- All you can eat food – prepared by Chef Samuelsson
-- "ESPN Game Day" coverage on large screen HDTV's in a lounge atmosphere with private tables in the hospitality area.
Don't miss out on this chance of a lifetime to attend this party AND Super Bowl XLVIII! Visit the Bullseye Event Group website for more information on our discount Super Bowl ticket packages.
About Bullseye Event Group
As a secure, official source for travel, hotel, pregame parties and tickets, Bullseye Event Group is a direct and dependable source for Super Bowl packages, delivering unforgettable experiences to fans.