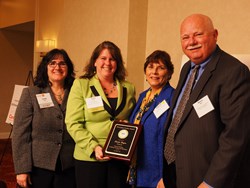 Paterson, New Jersey (PRWEB) December 09, 2013
Paterson, N.J. (December 9, 2013) – On December 4th during the luncheon at the Center for Non-Profits' 2013 conference, Generations of Impact, The Emerging Nonprofit Leader Awards were presented. Fairleigh Dickinson University's Emerging Nonprofit Leader Award was established by its Center for Excellence: Leadership, Governance, Philanthropy to promote excellence in the field by recognizing and calling attention to the promise and impact of talented nonprofit leaders. The awards program was introduced in partnership with the Center for Non-Profits to celebrate the 30th anniversary of the organization's service and leadership for New Jersey's nonprofit community.
Awardees were selected through an application process judged by a volunteer panel of respected leaders in their fields. The selected candidate and finalists receive scholarships that may be used for any of the Center for Excellence certificate programs. They also receive free registration to the Center for Non-Profits' 2014 webinar series. Marie Reger, executive director of Eva's Village, New Jersey's most comprehensive anti-poverty organization, was selected as one of the finalists for the 2013 Fairleigh Dickinson University Emerging Nonprofit Leader Award. "I am very honored to have been chosen as a finalist for this award," stated Marie Reger. "A popular quote is "that it takes a village" but it is true Eva's Village continues to grow and help those in need because of all the dedicated employees and donors who support or mission."
Founded by Msgr. Vincent E. Puma in 1982 as a response to the poor and homeless in Paterson, NJ, Eva's Village is a non-profit comprehensive social service organization with a mission to feed the hungry, shelter the homeless, treat the addicted and provide free medical and dental care to the poor. Through more than three decades of service, Eva's Village has established a unique record in facing community challenges and changing the lives of the hungry, homeless and addicted. It has grown from a simple soup kitchen to become the most respected anti-poverty program in New Jersey. Eva's Village now includes fourteen integrated programs housed in numerous buildings spanning several city blocks in Downtown Paterson.